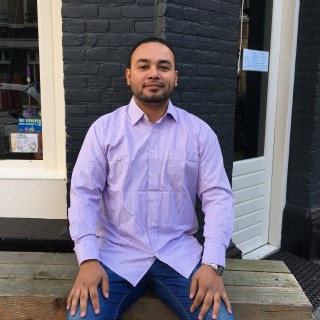 9 april 2018
Interview met advocaat Rommel Durán
Mensenrechtenadvocaat Rommel Durán uit Colombia: ,,In mijn land is een 'sociale genocide' gaande"
De Colombiaanse mensenrechtenadvocaat Rommel Durán Castellanos was enkele dagen in Engeland en Nederland om krachtige steun te bepleiten voor zijn collega's, die bloot staan aan bedreigingen en geweld. En ter voorbereiding van de internationale waarnemingsmissie 'Caravana Internacional de Juristas' die in augustus Colombia opnieuw zal bezoeken. De tweejaarlijkse delegatie gaat voor de vijfde keer en bestaat uit een grote groep advocaten, rechters en officieren uit meer dan tien landen. De 'Caravana' wordt vanuit Londen georganiseerd in samenwerking met Colombiaanse advocaten. Lawyers for Lawyers neemt, evenals voorgaande keren, ook deel met een afvaardiging. We spraken Durán over de penibele positie voor veel advocaten in Colombia.
Hij staat regelmatig bloot aan intimidaties en bedreigingen en werd naar eigen zeggen al twee keer arbitrair vastgezet. En hij vertelt er nog een soort van luchthartig over. Maar dan valt er toch een stilte…Zijn broer werd in 2016 vermoord. Mensenrechten-advocaat Rommel Durán blijft echter strijden voor rechtvaardigheid in Colombia.
,,Nee", zegt hij dan toch weer lachend in het interview met Lawyers for Lawyers. Hij heeft, desgevraagd, geen vriendin. Maar de ondertoon is bloedserieus. De 31-jarige advocaat kiest er bewust voor geen relatie aan te gaan. Hij is vaak langdurig en ver weg van huis, op het platteland waar veel mensen wonen voor wie hij opkomt. En nog veel belangrijker: hij zou zijn gezin niet willen confronteren met de gevaren van zijn werk. Familieleden van mensenrechten-activisten krijgen vaak te maken met represailles.
Colombia wordt tegenwoordig op toeristische websites weer aangeprezen als een prachtige, veilig te bereizen vakantiebestemming in Zuid-Amerika. De realiteit voor veel inwoners staat daar volgens Rommel ver vanaf. ,,Op de toeristische plekken, is weinig voelbaar van de spanningen", legt hij uit. De regering-Santos draagt volgens hem ook actief het beeld uit dat er – sinds het vredesakkoord met de FARC in 2016 – een einde is gekomen aan de burgeroorlog. Hij ziet dat totaal anders. ,,Het politieke geweld gaat onverminderd door. Voor de boeren en sociaal leiders, voor de mensen die hun nek uitsteken, is er niets veranderd. Integendeel. Wij zijn weer terug in de periode van het grote geweld. De jaren zestig, zeventig, de tijd van 'la grande violencia'.
Op 11 maart waren er Congresverkiezingen. ,,Daarbij hebben de rechtse reactionairen gewonnen. Mensenrechten-activisten zoals ik en mensen in de sociale sector constateren dat er in praktijk een 'sociale genocide' gaande is. Sociale leiders en mensenrechtenactivisten worden naar het leven gestaan, dus juist degenen die opkomen voor bevolkingsgroepen die hun rechten opeisen bij de staat."
Moorden
Hij neemt geen blad voor de mond als hem gevraagd wordt van welke kant het geweld vooral komt. Zonder aarzeling: ,,De staat en de paramilitairen, die hand in hand samenwerken met de staat. Voor de regering bestaan de paramilitairen niet meer sinds 2005. Maar in werkelijkheid zijn ze actiever dan ooit".
Of hij niet beducht is dit soort keiharde uitspraken te doen? Hij maakt een handgebaar waarmee hij wil uitdrukken geen andere keuze te zien. ,,Natuurlijk kan ik daarvoor worden vervolgd. Maar er moet een einde komen aan het geweld, aan het moorden". Volgens Rommel Durán zijn er vorig jaar ruim tweehonderd voorvechters van mensenrechten en sociaal leiders om het leven gebracht. ,,En dat aantal is min of meer constant. Ieder jaar zijn er weer zoveel slachtoffers. De overheid erkent de moorden niet. Ze houden zulke cijfers verborgen, in het donker".
Advocaten zouden een beroep kunnen doen op beveiliging van overheidswege. Er is zelfs een officiële 'beschermingseenheid', de Unidad Nacional de Protección.
Rommel haalt zijn schouders op. ,,De staat is juist de bescherming van activisten voor de mensenrechten aan het terugtrekken. Met het argument dat de burgeroorlog is beëindigd, het geweld is opgehouden en dat we nu in een 'post-conflict' situatie zitten".
Sociale ongelijkheid
De interne strijd die het land al decennialang teistert is complex. Met politieke, economische en ideologische achtergronden. En met veel verschillende partijen: de staat, het leger, (ex-)rebellengroeperingen, paramilitairen. En de grootste groep: de slachtoffers. De grote massa van arme, kleine boeren en inheemse bevolkingsgroepen. Dat zijn ook met name de mensen voor wie Rommel opkomt. ,,Het kernprobleem van Colombia is de sociale ongelijkheid. De onrechtvaardigheid. Het ontbreken van het recht om je te manifesteren, de zinloosheid om aangifte te doen. In sommige regio's heerst complete straffeloosheid."
Het huidige geweld draait vooral om grondbezit. Rommel legt uit dat tijdens de oorlog heel veel boeren onder bedreiging van hun land zijn verjaagd. Of ze werden gedwongen hun grond tegen bizar lage prijzen te 'verkopen'. ,,Daar hebben de staat, paramilitairen, nationale bedrijven en multinationals – ieder vanuit eigen belangen – aan meegeholpen".
In 2011 is een wet van kracht geworden die de teruggave van grond aan de oorspronkelijke bezitters moest regelen. ,,Die  maatregel – bekend als Restitutiewet 1448 – werd gezien als een grote ontwikkeling in Colombia. Maar in praktijk is de wet inadequaat, een wassen neus. Waarop moeten mensen hun rechten baseren zonder aktes? Degenen die nu de grond in bezit hebben, beschikken over de macht, de invloed en het geld om te verhinderen dat de claims van rechthebbenden worden toegewezen. Daaronder ook bedrijven en 'projecten'. De politiek, de militairen en economische machthebbers houden die status quo in stand. Er is al geweld gebruikt bij het zich toe-eigenen van de grond. En nu gebeurt dat weer om te voorkomen dat ze hun bezit kwijtraken".
Stigmatisering
Advocaten die opkomen voor de belangen van de kleine man, van politieke gevangen of die aangifte doen van mensenrechtenschendingen, lopen groot gevaar. Ze worden volgens Rommel geassocieerd met de partijen die zij verdedigen, of worden valselijk (strafrechtelijk) beschuldigd van ondermijning, corruptie of fraude. ,,Op het moment dat wij politieke gevangenen juridisch bijstaan, worden we gestigmatiseerd als terrorisme-advocaten. Omdat wij ook familieleden helpen van mensen die zonder enige vorm van proces zijn geëxecuteerd door het leger".
Rommel Durán kan niet genoeg beklemtonen hoe belangrijk internationale aandacht is, zoals van de Caravana de Juristas. ,,Met die steun kunnen we de autoriteiten veel krachtdadiger aanspreken op onze veiligheidsrisico's. Zij moeten ervan doordrongen zijn dat wij geen partij zijn, maar slechts juridisch strijden tegen rechteloosheid".
© Lawyers for Lawyers / Johan van Uffelen