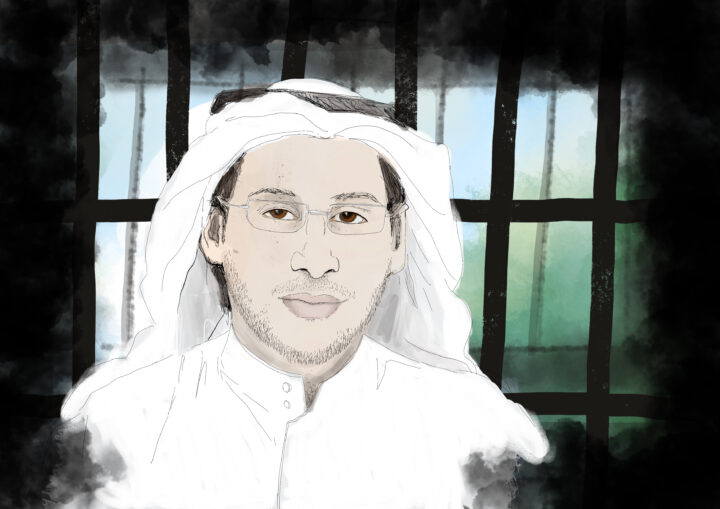 12 januari 2022
7 years since Waleed Abu al-Khair was sentenced to 15 years imprisonment on appeal
Today marks 7 years since the conviction and sentencing on appeal of the prominent human rights lawyer and founder of the Monitor of Human Rights in Saud Arabia Waleed Abu al-Khair to fifteen years imprisonment.
Join us today to take action and show your support by sending a greeting card with a message, for more information on how to show your support click here.
About Waleed Abu al-Khair
Waleed Abu al-Khair is a prominent human rights lawyer who is known for his advocacy in favor of democracy and human rights reforms in Saudi Arabia. The key issues he addressed are a call for an elected parliament, independent judiciary, a constitutional monarchy and recognition of human rights. In his capacity as a lawyer, he represented blogger Raif Badawi, who is currently imprisoned. As the head of the Monitor of Human Rights in Saudi Arabia, he has published information about human rights violations in Saudi Arabia. Waleed abu al-Khair has been awarded the 2021 Olof Palme Memorial Fund-prize and the 2019 ABA International Human Rights Award for his important work to advance human rights and advocate for justice in Saudi Arabia.
Arrest and prosecution
Waleed Abu al-Khair was arrested in April 2014 and sentenced in July 2014. On 12 January 2015, the Specialized Criminal Court of Appeal in Riyadh confirmed a sentence of fifteen years in prison, a travel ban and a fine of SR 200.00,- (roughly EUR 47.000,-). Waleed Abu al-Khair was charged with "striving to overthrow the state and the authority of the King"; "criticizing and insulting the judiciary"; "assembling international organisations against the Kingdom"; "creating and supervising an unlicensed organisation"; "contributing to the establishment of another" and "preparing and storing information that will affect public security".
During his detention Waleed Abu al-Khair has been placed in solitary confinement, ill treated and has been on several hunger strikes in an attempt to protest the conditions of his detention.
During his trial Waleed Abu al-Khair sent a letter to the Court stating that he does not recognize the legitimacy of said court. The jurisdiction of the Specialized Criminal Court is limited to terrorism related cases, but has increasingly been used to target human rights defenders, including lawyers.
The United Nations Working Group on Arbitrary Detention (WGAD) has reviewed the legitimacy of his detention in November 2015 and July 2018. The arrest, prosecution, conviction and sentencing of Waleed Abu al-Khair have been reviewed by the WGAD. The WGAD stated that the arrest, prosecution, conviction and sentencing of Abu al-Khair lacked any legal basis and has twice recommended his immediate release.
Meer nieuws uit Saudi Arabia