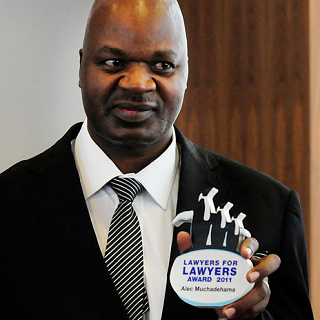 28 februari 2019
Alec Muchadehama will attend presentation fifth award
,,Protected by being in the spotlight
 

of

 

human rights monitoring organizations such as Lawyers for Lawyers''

text: Johan van Uffelen

Eight years after receiving the Lawyers for Lawyers (L4L) Award, Zimbabwean lawyer Alec Muchadehama is still steadfast in his work. Also during the recent crackdown in Zimbabwe. Even after dictator Mugabe had to clear the field, the situation has still not improved. "Lawyers representing those arrested during the recent protests, like myself, are subject to the constant threat of abuse", he says in an interview with L4L. 

Alec received the Award in 2011 for his 'exceptional courage' during the long dictatorship in his country. He will attend the presentation of the fifth L4L Award on May 23, 2019. And he will be a speaker at  the seminar that precedes the official presentation. ,,The award demonstrates that the world is watching wherever human rights abuses occur. In a way the award acts as a protection mechanism, especially for human rights lawyers whom the system is now slow to abuse because they are in the spotlight  of world watchers such as L4L and fraternal organizations".

In the thick of things

Muchadehama has been a lawyer since 1991 and since 1998 has assisted many human rights activists, opposition members and civilians. He was threatened, arrested and persecuted many times. 

At the moment the situation in his country is extremely tense, he tells us. After the Zimbabwean government more than doubled the price of gasoline to 2.90 euros per liter in mid-January – making it the highest petrol price in the world – trade unions announced a mass-stay away. Security forces  shot many people  during the violent protests. More than 1,000 demonstrators were arrested during the crack-down by the police and the military. ,,Those arrested in the crack-down are suffering abuse ranging from unlawful arrest, torture, detention on remand that is unlawful and in breach of due process being denied bail and summary trials without being afforded an opportunity to adequately prepare for trial. And I find myself in the thick of things".

AK 47

Alec gives an example of such armed intimidation: ,,On  January 11, 2019 I went with a colleague to assist a client, Douglas Mahiya, who was interrogated by those suspected of being police and military. They pushed him to assist them find to his brother Rashid Mahiya who they wanted to capture. It was around 9 p.m. We identified ourselves as lawyers. There were around nine people who were in civilian clothes, but armed with AK 47 assault rifles.  They chased us away and threatened to shoot us if we remained on  the premises. After we left our client was  tortured very badly  for daring to bring in lawyers. He was told that lawyers do not help in these circumstances".

According to Alec, the situation has not improved since the army put an end to Mugabe's long-standing dictatorship and Emmerson Mnangagwa came to power in November 2017. ,,Unfortunately the current events show that Zimbabwe is now worse-off  in regard to the political, economic and human rights situation". 

The working conditions for those who defend human rights in Zimbabwe are extremely bad, he emphasizes. ,,Human rights lawyers are being denied access to their clients and don't get adequate time and facilities to prepare for their cases.  In one case, for example, three lawyers are representing sixty accused people. They were given only a few minutes to prepare for a trial soon after the accused initially appeared in court. The charges are for public violence which is a very serious one".

At the end he again wants to say something about the L4L Award: ,,On a personal level the award remains one of the best things that has happened to me. I have always cherished the moment I stood up on April 15, 2011 to receive this Award".