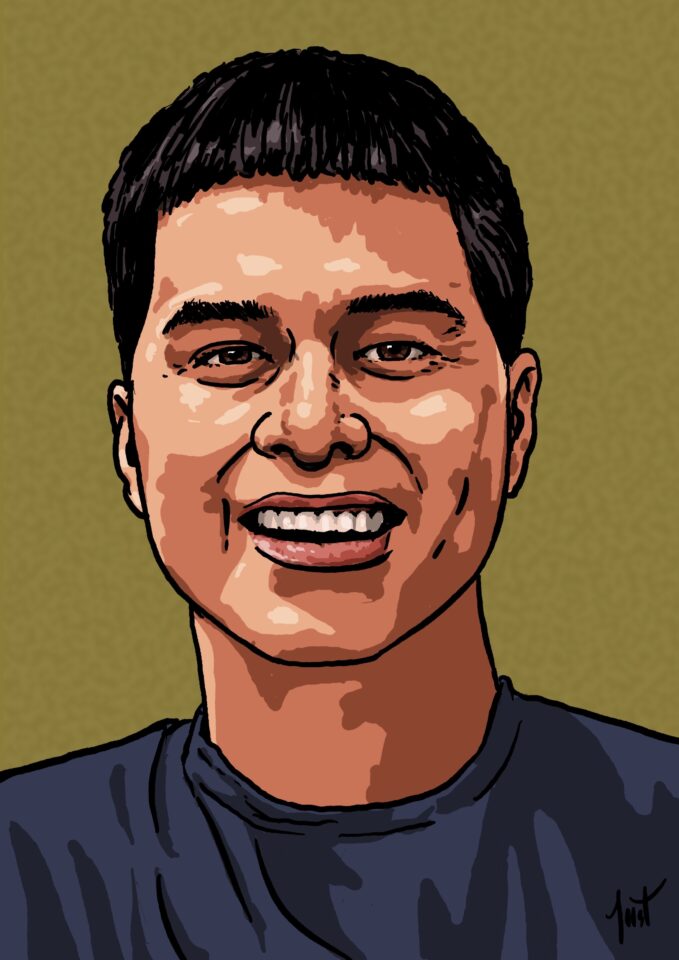 3 mei 2023
Att. Marco Emanuel Chung Ramos: "It is not just the protection of the environment; it is a protection of what is ours and of who we are"
Illustration: Joost Hölscher
Marco Emanuel Chung Ramos is a lawyer specialising in human rights and criminal law who – on top of that – has made a career out of his environmental activism in Peru. Mr. Marco Chung characterises his home country as 'the Disneyland of socio-environmental conflicts' referring to the highly capitalistic socio-economic and political history.
Peru is a very multicultural country, with the powerful corporate sector at the top of the social order. Because of this, economic advantage trumps human and environmental rights. The country's environment is at a vulnerable state, corruption has found its way into government and there is no power to establish a mechanism of control and surveillance of the economic activities. The high levels of water and land pollution, deforestation and the killing of indigenous people who care for Peru's natural environment are concerns that Mr. Marco Chung has taken on, at the risk of his own freedom.
Environmental legislation in Peru is underdeveloped. In recent years, the monetary value of land has rapidly increased because multinational/global companies come in, buy land, and start mining. There is no law to stop Peruvian land from being capitalised, nor any incentive to stop it as the State makes a fortune from selling the land. To participate in the constant legal battle for human rights of environmental defenders against the government and companies buying the land to undertake extractive activities, Mr. Marco Chung co-founded Aklla Pacha. Aklla Pacha is a non-profit organisation dedicated to accompanying collective organisational processes and defending human rights within the Peruvian framework of Buen Vivir from an integral vision, since 2017. Mr. Marco Chung shows us an image of him surrounded by indigenous women, holding a banner with 'Conga no va' ('Conga is a no-go'). Conga is a large mining project in Cajamarca in the mountains of Peru, which is greatly harming the human rights of the people who live there and who were never involved nor accounted for in the permitting process. Besides founding Aklla Pacha, Mr. Marco Chung went to Spain and got a master's degree in international criminal law. He now applies this knowledge in penal cases against illegal extractive activities in his home country, with his own one-man law firm. "There are only very few lawyers who are a part of the defence for the environment, it is only me and a handful of other lawyers. Peru needs like-minded and courageous lawyers, because I can hardly cope with the number of pending cases".
Nonetheless, the people are very restless and not afraid to stand up for their own rights. "This is particularly evident in the widespread of protests that have taken place over the past year, numbering up to a thousand", Mr. Marco Chung continues. Unfortunately, these protests are never peaceful, and the last time activists demonstrated in the neighbourhood, 65 people lost their lives. Mr. Marco Chung provided legal support to some of the activists. Being the lawyer of protestors is a dangerous job. The few environmental lawyers in Peru, including Mr. Marco Chung, are being intimidated and are in constant fear of being killed. "It starts with blackmail letters sent to your home address or phone calls. The police do not take any action and the authorities do not open an investigation. What is worse, the Peruvian Terrorism Department has labelled me a suspect of 'political terrorism', for which I will be prosecuted, and which makes it complicated for me to travel abroad, where I would be flagged."
But Mr. Marco Chung continues his work, whatever it takes, for the love of his country and its people. Currently he is the legal counsel in 11 criminal cases of members of the Frente de Defensa Salvemos Chaparrí, a defence front working to protect the Chaparrí Private Natural Conservation Area from land invaders and the alleged hydroelectric and mining megaprojects that are intended to be built without consulting the inhabitants on the reserve. The Chaparrí reserve was established by a local community in 2001 as Peru's first privately managed nature reserve. No landscape-altering infrastructure projects are permitted in the reserve, and land-use changes are forbidden, by a 2011 resolution from the Peruvian Ministry of Environment. According to Peruvian law, the ownership cannot be disrupted and there is a judicial process that determines who has the right to the land, but land invaders use force and aggression. In 2018, Mr. Marco Chung's friend and community leader, Napo, has allegedly been killed by mobsters from an invading company, because of his support to environmental defenders. "There is an alarming pattern of violence against our legitimate work." This example of the Chaparrí reserve shows the unstable situation of environmental law and protection of those who vouch for the legal conservation.
Another example of a law that has been agreed upon to protect environmental defenders, is the recent international Escazú Agreement. This agreement is signed by 25 Latin American and Caribbean nations concerning the right of access to information in environmental cases, public participation in environmental decision making and a right to healthy and sustainable environment and future generations. Even though this sounds very hopeful, the state has not allocated any budget to realize the rights in the Agreement. "One day, I asked the police to help a population that lived across a river and who's people were being physically terrorised by land traffickers. The police replied that they did not have the budget to cross the river. And with that, the case was closed. The environmental defenders were left to fend for themselves."
Mr. Marco Chung wishes to emphasise that Peru is affected by its corruptive political environment, because the natural environment is a fundamental part of the Peruvian indigenous culture. "It is a part of our religion. No es una defensa del medioambiente es una defensa de lo nuestro de lo que." ("It is not just the protection of the environment; it is a protection of what is ours and of who we are.")