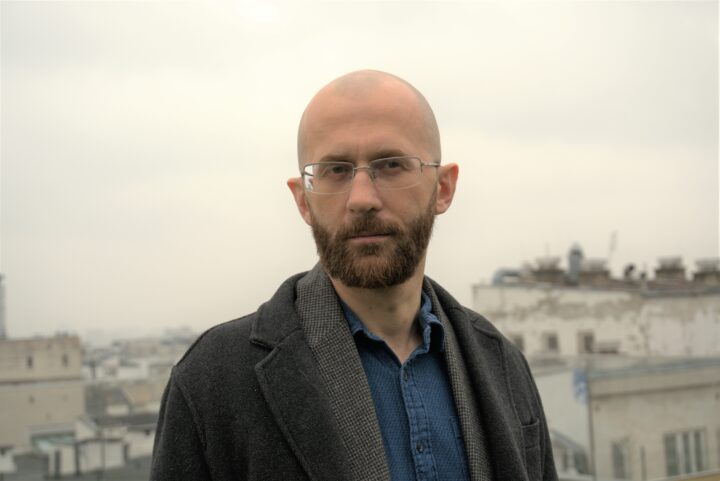 15 december 2021
Belarusian lawyer Mikhail Kirilyuk: "We should never stop resisting"
5 December was Lawyers' Day in Belarus. However, the situation of lawyers in Belarus is extremely concerning. They are subject to harassment, intimidation, and improper interference as they try to perform their professional functions and the very independence of the legal profession in Belarus is under threat. To mark this day, we spoke to the Belarusian lawyer, Mikhail Kirilyuk. The defence lawyer for, among others, the detained basketball player Elena Levchenko and a representative of the Coordination Council, he was deprived of his license to practise law. He is now living in exile in Warsaw where we had a call with him.
You left Belarus in October 2020 after receiving a warning from a contact that you faced arrest and revocation of your licence to practice law. You have said that the action against you was "politically motivated" because of who you had represented and of your public critical comments. Can you tell us more about the background?   
"I left about a year ago. The situation in Belarus felt very unsafe. I defended the well-known Belarussian political activist Yury Voskresensky. One time, I visited my client in a Belarusian Committee of State Security (KGB) jail. In conversations with him it transpired that he was tortured. It was hard to talk to him securely in the prison. At the table there was a camera, there was constant supervision which meant that we couldn't speak freely. I was only able to talk about sensitive matters while walking in the hallways. Afterwards I reported the torture allegations to the media. As a result, I was advised to leave the country. Given the situation of other lawyers it was clear that I had to leave. I left with my children and parents. There were searches in several apartments and offices. It was very difficult, also people who are still living in Belarus and who have been left behind are like hostages to the Lukashenko regime. One never knows what could happen to them.
What is your life like now in Warsaw? You were disbarred in February this year when you were already out of the country. Are you still able to work? Are you still being pursued by the Belarusian authorities?
I can work, yes. I applied for refugee status and am in Poland based on a humanitarian visa, through which I can enter the labour market. I am working in the political organisation National Anti Crisis Management led by Pavel Latushka, member of the Presidium of the Coordination Council. Thereby my work is still connected to Belarus which is important to me.
What about human rights lawyers still in Belarus? What is their situation? Are there many still able or willing to take on political cases given the ongoing repression?
In Belarus there is a distinction between attorneys, and lawyers. The latter can't appear in court, only give legal advice and recommendations. In the past year over 270 NGOs that were dealing with human rights or solely supporting civil society were liquidated by the State. This means that many human rights defenders fled the country and the ones that remain can't speak freely or get involved in political cases. The risk of going to jail is high. The censorship is very strong in Belarus. We only have 2000 attorneys for 10 million people. Recently, 30 attorneys lost their licenses to practice law on politically motivated charges. This sends a clear signal to the remaining attorneys not to talk about politics.
The amendments to the Law on Bar and Advocacy have been heavily criticised, also by international organisations. However, the Justice Minister, Oleg Slizhevsky, said that the aim of the new law is to raise the quality of legal professionals and improve their advocacy. What do you say to this? Will these changes improve or worsen the position of lawyers in Belarus and why?
Currently the head of the national Bar Association, Victor Chaychits is a member of the upper chamber of parliament. He told us to vote for Lukashenko yet asserted that lawyers shouldn't talk about political matters publicly, because otherwise one breaches legal ethics. He doesn't serve the law, he is a former policeman. He only has this position because it was given to him by the justice minister. In a way he is his puppet, his own opinion isn't relevant. Whatever the outcome of the amendments, the situation is controlled already by the justice minister and the Bar Association. Since the Bar Association is so closely tied to the Ministry of Justice it is very unlikely that they would act contrary to the political agenda. The current Minister of Justice does not have a legal education, he is a former policeman. I was disbarred when I refused to be silent about my inability to visit my client in jail, despite clear laws that allow for it. When I resisted this and went to the media it led to conflict and I got disbarred.  Unless the regime is changed, actual reforms would not be relevant or meaningful.
Two of your Belarusian colleagues, Ludmila Kazak and Maksim Znak (the latter in prison) have recently jointly won the 2021 IBA Human Rights Award and the Lawyers for Lawyers 2021 Award. These awards are one way of drawing attention to the plight of individual lawyers in Belarus and the repression of its legal profession. But do you have any message for the international community as to how it can best help those lawyers in danger in Belarus for doing their legitimate work?
Any media activity is harmful to the government of Belarus. Since Belarus is not on the political agenda all over the world, constant exposure where possible is a good thing. It will not change the root of the problem, but it keeps the conversation going. At the end of the day, the only way to help the people who are imprisoned in Belarus on spurious or politically motivated charges is a regime change. We have the legal knowledge and administrative knowledge to defend them but no political leverage or ability to do so.
Another helpful component would be the initiation of criminal cases under international law against Lukashenka's accomplices, the summoning of obvious suspects, such as the head of the Akrestina prison, where torture was repeatedly reported – Andrei Shepetko, and placing them on the international wanted list. Adding Lukashenka and his accomplices to the European Union terrorist list.
One idea mentioned by a participant at the Lawyers for Lawyers Award ceremony on 18 November, was that naming and shaming of government officials has proved to be very efficient. This was confirmed by the Dean of the Warsaw Bar Association. Do you think naming and shaming of members of the Qualification Commission (for admission to the Bar) and prosecutors who demand disbarment and/or imprisonment of lawyers would be helpful in any respect?   
Perhaps it could help. The more personal the negative press is, the more the Belarusian authorities dislike it. If there are any personal connections internationally with the ministry of justice that benefit them, then those should be broken because their agenda doesn't reflect the interests of Belarusian lawyers at all.
Finally, what message do you have for your colleagues still in Belarus who are in danger on this day?
It remains important to try to disrupt the upcoming referendum[1] and make clear that we as lawyers are against the illegitimate process. It remains clear that the elections were not free or fair, so we must work to stop this referendum. The fear of living with this regime for the rest of our lives should be more frightening than putting two marks on a sheet of paper.  We should never stop resisting.
[1] Editor's Note: Lukashenko has announced that he will hold a referendum with the aim, according to independent media, to legitimise, inter alia, his status as elected president".
Disclaimer: The views expressed in this interview are those of the interviewee and the author and do not necessarily reflect those of Lawyers for Lawyers.