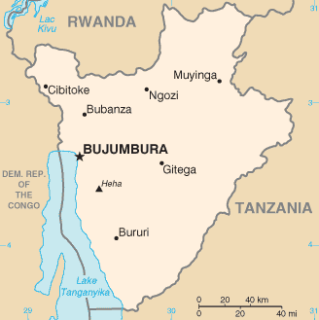 27 oktober 2016
Burundi Schrapping dreigt voor vier advocaten
Advocaten Armel Niyongere, Lambert Nigarura, Dieudonné Bashirahishize en Vital Nshimirimana, worden bedreigd in de uitoefening van hun vak, nu de Burundese autoriteiten hebben verzocht om een schrapping van het tableau van deze advocaten.
De vier advocaten waren betrokken bij het opstellen van een rapport over mensenrechtenschendingen in Burundi. Dit rapport werd behandeld tijdens een sessie van het VN-Comité tegen Foltering op 28 en 29 juli 2016 in Genève. Drie van de vier advocaten waren bij de sessie aanwezig.
De regeringsdelegatie van Burundi verscheen niet op de tweede dag van de sessie. Dezelfde dag ontving de Deken van de Orde van Advocaten in Bujumbura, Burundi, het verzoek van de procureur-generaal van het Hof van Bujumbura om de advocaten de maatregel van schrapping op te leggen. In het verzoek worden de advocaten beschuldigd van betrokkenheid bij verschillende strafbare feiten, waaronder 'deelname aan een revolutionaire beweging'. De maatregel van schrapping zou tot gevolg hebben dat advocaten hun beroep niet meer kunnen uitoefenen.
Lawyers for Lawyers heeft tezamen met de International Commission of Jurists (ICJ) een brief gestuurd aan de President van de Republiek van Burundi waarin gewezen werd op de UN Basic Principles on the Rights of Lawyers. Advocaten moeten in vrijheid hun beroep kunnen uitoefenen, zonder te hoeven vrezen voor (administratieve) sancties, zoals schrapping van het tableau.
Op 27 september 2016 heeft de Deken van de Orde van Advocaten in Bujumbura, Burundi besloten om het verzoek van de procureur-generaal om vier advocaten te schrappen van het tableau ongegrond te verklaren. De Deken overweegt dat tot op heden geen strafzaak tegen de vier advocaten aanhangig is gemaakt, dat zij worden vermoed onschuldig te zijn totdat het tegendeel is bewezen en dat er geen grondslag is voor de gevraagde maatregel.
Inmiddels is tegen deze beslissing echter beroep ingesteld bij het Cour d'Appel van Bujumbura. De dreiging van schrapping hangt de advocaten nog altijd boven het hoofd. Lawyers for Lawyers blijft de zaak nauwlettend volgen.