PROVIDING PROTECTIVE PUBLICITY AND SUPPORT TO UNJUSTLY JAILED LAWYERS
#FreeTheLawyers Campaign
There is an alarming trend of lawyers who are sentenced to long prison sentences because of their work. In these cases, fundamental rights such as access to justice and protection from torture and other ill-treatment in detention are not guaranteed. Therefore, these lawyers need our support.
In order to provide protective publicity and support to lawyers who are serving long prison sentences, Lawyers for Lawyers has launched the worldwide two-year long #FreeTheLawyers Campaign on 10 December 2019. The campaign is designed to bring awareness, build support, and inspire action on behalf of lawyers imprisoned for their work. Learn their stories, send them messages of hope, and join the campaign to stand in solidarity and advocate for their immediate release.
Lawyers for Lawyers has highlighted the cases of six of these courageous lawyers who are unjustly jailed for upholding the rule of law: Selçuk Kozağaçlı from Turkey, Li Yuhan and Yu Wensheng from China, Nasrin Sotoudeh from Iran, Waleed Abu al-Khair from Saudi Arabia and Buzurgmehr Yorov from Tajikistan. All six lawyers are pictured below, the illustrations were made by Elisabeth van der Spek
For more information about the featured lawyers click here. Scroll down to see how you can take action!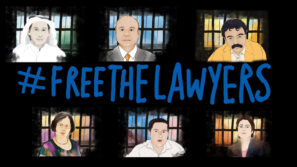 JOIN US AND TAKE ACTION!
Greetings cards action
Messages of solidarity and support can encourage and inspire others to take action. Writing greeting cards or writing and sharing social media posts can contribute to the release of unjustly imprisoned lawyers or can help generate protective publicity.
Please send your cards to the post office box below and mention the name of the lawyer you would like to address your card to in the card. Do not send any religious card or political statements. The team of Lawyers for Lawyers will make sure that your cards will be forwarded to the lawyer to whom you have addressed your card!
Lawyers for Lawyers
PO box 15732
1001 NE AMSTERDAM
The Netherlands
Letter writing action
Letters send a clear signal to the authorities that their actions are being watched. Join us and send a letter to the Saudi authorities to ask for the immediate and unconditional release of Waleed Abu al-Khair. We have created a template letter that you can use. The letter can be found here and includes the relevant address details of the Office of His Majesty King Salman Bin Abdul Aziz Al Saud in Riyadh in Arabic. Please sign the letter, print it and copy and paste the complete address from the template letter on the envelope. You can sign the letter with your own name, a fictitious name or solely a signature.
Social media actions 
Lawyers for Lawyers has been actively raising awareness about the jailed lawyers that are featured in our campaign via our social media channels by using the #FreeTheLawyers hashtag. We ask attention for amongst other things, the birthdays of the jailed lawyers and International UN days that relate to the lawyers. We also commemorate the sentencing and the imprisonment of the lawyers. Moreover, we keep the public informed any new developments. We welcome you to share our posts or write a post about one of the lawyers yourself by using the #FreeTheLawyers. Follow our Facebook and Twitter page to stay up to date!
Would you like show support for unjustly jailed lawyers? The texts that are posted below can be copy and pasted to your social media accounts.
Take action for unjustly jailed lawyers by writing a greetings card: https://tinyurl.com/tz5ntvn #FreeTheLawyers
Dear (name of lawyer), you are not alone in your struggle. We will keep raising our voice for you #FreeTheLawyers