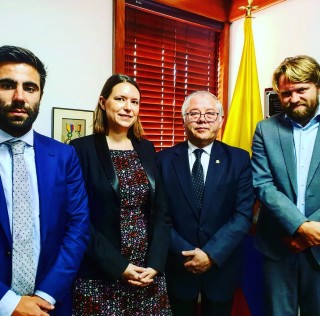 19 september 2018
Caravana Blog #9
Day 10 and Day 11 (Sunday 9, and Monday 10 September 2018): 
The Caravana was officially closed yesterday with an informal dinner with the 10 remaining Caravanistas. Afterwards, Gemma, Wout and me couldn't resist honouring our cooperation with a few drinks at Quiebra Canto, home of the Colombian rumba. The evening didn't really feel like the end of our journey, because for Wout and me there was still some Caravana related work to do. This work had to wait a bit though, because Sunday afternoon we had to say goodbye to our dear friends Gemma and Christian, who returned home. Gemma, Christian, if you guys read this: I miss you already and I look forward to seeing you in Amsterdam, Bologna, London or Barcelona. I wish you all the best!
As last men standing, for Wout and me, the cherry on the Caravana cake was served on Monday morning, by means of a last minute meeting with the President of the Colombian Supreme Court, Mr. José Luis Barceló. I'm not here to promote the grandeur of this man, but I must admit I felt pretty impressed with this invitation. It's not like you get to meet the most important judge of Colombia everyday. I felt like an intern on his first day at the office, watching his every step and trying not to spill coffee over his boss's desk. Not just because of Mr. Barceló's title or function, but mainly thanks to the great amount of knowledge and personal worries he was willing to share with us. Knowing under how much pressure the judiciary system in Colombia currently has to work, I admire the natural modesty and sincere involvement Mr. Barceló demonstrated to us. It was the perfect meeting to end with.
Time for a short moment of consideration.
The future of Colombia is uncertain (I refuse to say worrying), and if I may predict I think the message of the final Caravana report will be that the country has a long way to go before peace can be found. For me however, optimism rules. My hope is not based on numbers. It is not supported by daily news flashes, nor on the plans of the Colombian government or political parties. No, it exists just for one reason. Colombia's biggest treasure, way more valuable than any oil, minerals or gold ever found, is its resilient, spirited and courageous people. The greatest foundation imaginable for building a strong society.
The notes, pictures, video's and stories I have gathered over the last ten days are overwhelming and I truly hope I have been able to give you a valuable impression of what we have done in Colombia. In the near future the Caravana will publish its final report on its website. However, since this report will be more informative than personal, by writing this blog I have tried to avoid too much legal details and focus more on the human aspects of our work. I hope I didn't fail you.
Although I really like theme parks a lot, I must say it feels good that the carousel is about to stop spinning. I don't consider myself an emotional person, even less in my daily profession as a corporate lawyer, but the experience of the Caravana has left its mark. It has been exhausting, emotionally draining, sometimes even shocking. I have never heard the word preocupante (meaning worrying) so many times in such a short period. But on the other hand, it has been inspiring,  personally perhaps even life changing. I can recommend any Lawyers for Lawyers member, when given the opportunity, to go on such a mission as the Caravana, grab hold of it, and never let go. Live it as intense as possible, and allow yourself to get attached. It is actually okay to feel sad about others. It doesn't make you weak. On the contrary. It opens doors you didn't know existed. It makes you human.
The Caravana has come to an end, buy my blog hasn't yet. My heart tells me to let this whole experience sink in for a couple of days and conclude the journey in style with some last personal words.