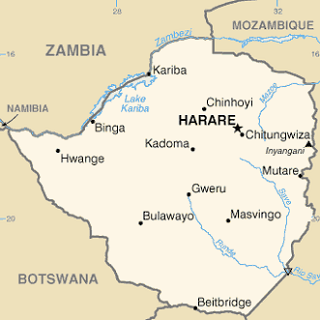 11 juni 2020
Concerns about the recent arrests of lawyers in Zimbabwe
Lawyers for Lawyers is concerned about the recent reports of arrests of Zimbabwean lawyers Patrick Tererai, Thabani Mpofu, Lawman Chimiuriwo, Tapiwa Makanza, Choice Damiso, Joshua Chirambwe, and Dumisani Dube.
According to our information, on 10 March 2020, Mr. Tererai was arrested and detained overnight at Beitbridge police station after representing his client at the police station. He was charged with the disorderly conduct.
Zimbabwe Lawyers for Human Rights (ZLHR) has reported that the Zimbabwe Republic Police arrested and detained Mr. Mpofu on the 1st of June 2020. He was charged with obstructing the course of justice and released on bail by the Harare Magistrates Court on 3 June 2020. One of the allegations against Mr. Mpofu is that he drafted an affidavit on behalf of a person who is said not to exist. The allegation also claims that the affidavit was not sworn before a Commissioner of Oaths. Supposedly, after that, the affidavit was filed at the Constitutional Court in a matter challenging the appointment of the Prosecutor General. It has been said the Mr. Mpofu filed a second Constitutional Court application after comprehending that the first application would fail. It was alleged that Mr. Mpofu used his second application to stop an enquiry into the existence of the person of whom it was claimed did not exist, thereby defeating the judicial proceedings.
In connection to the arrest of Mr. Mpofu, Ms. Damiso, before whom the affidavit was sworn, was arrested and taken in by the police for questioning on 6 June 2020. Ms. Damiso was later released without a charge. In connection to the same matter, Mr. Makanza, who instructed Mr. Mpofu was also arrested and subsequently detained on 7 June. One day later, on 8 June, Mr. Chirambwe was arrested on allegations of assisting Mr. Mpofu. It has been alleged that Mr. Chirambwe assisted Mr. Mpofu to plagiarise an affidavit. Mr. Makanza and Mr. Chirambe were charged with obstructing the course of justice. In addition to the abovementioned arrests, Mr. Dube was arrested while representing his client who was being arrested on 8 June 2020. The allegation against Mr. Dube is that he has filed a fake certificate of service and consequently obtained a judgment in favour of his client.
The Law Society of Zimbabwe has expressed concerns about the continued arrests of its members.
According to Article 16 of the United Nations (UN) Basic Principles on the Role of Lawyers, governments should 'ensure that lawyers (a) are able to perform all of their professional functions without intimidation, hindrance, harassment or improper interference;  (…) (b) are able to travel and to consult with their clients freely both within their own country and abroad; and (c) shall not suffer, or be threatened with, prosecution or administrative, economic or other sanctions for any action taken in accordance with recognized professional duties, standards and ethics'.
Lawyers for Lawyers therefore calls upon the Zimbabwean authorities to guarantee in all circumstances that lawyers in Zimbabwe are able to carry out their legitimate professional rights and duties without fear of reprisals and free of all restrictions, including judicial harassment.