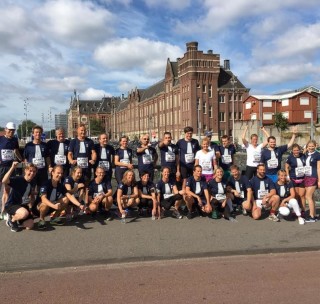 22 juni 2018
D2D 2018: Team Lawyers for Lawyers
Veel advocaten zijn voortdurend 'on the run' voor de autoriteiten of andere opponenten in hun land. Lawyers for Lawyers zal met een team van 60 renners meedoen aan de goede doelen loop (10 Engelse mijl, 16,09 km). Er zijn nog een aantal kaartjes beschikbaar. Ren mee, voor ons!
De Dam tot Damloop 2018 is op zondag 23 september. Aan de 34ste editie kunnen 50.000 hardlopers meedoen. Het is één van de grootste businesslopen ter wereld. De ongeëvenaarde sfeer, de IJtunnel en het feit dat start en finish in twee verschillende steden liggen, maken dit evenement heel bijzonder.
Een sportieve uitdaging, zonder meer. Maar als je uit naam van Lawyers for Lawyers loopt, steun je ook jouw collega-advocaten in nood.
Met het geld dat we inzamelen steunen we advocaten in het buitenland die worden bedreigd, gehinderd of zijn gearresteerd vanwege hun werk. 
Het opgehaalde sponsorbedrag zetten wij in om onze projecten voor advocaten in Turkije voort te kunnen zetten. We vragen dit jaar verder speciaal aandacht voor advocaten in Colombia. Deze zomer nemen we voor de derde keer deel aan een factfinding missie in Colombia. Ondanks de wapenstilstand nemen de bedreigingen aan het adres van advocaten nog steeds toe.
Wat vragen we van je?
1.    Schrijf je in voor een exclusief deelnamebewijs van € 100, door een email te sturen aan: admin@lawyersforlawyers.nl
2.       Verder vragen wij je minimaal € 100 aan persoonlijke sponsoring op te halen. Wij maken een profiel voor je aan op onze pagina op PIF World. Zo kun je heel gemakkelijk sponsors werven. Vraag je familie, je sportclub, je vrienden om te doneren. En niet te vergeten; je collega's die in ruil voor jouw zweetdruppels bij kunnen dragen aan de goede zaak. Het is natuurlijk ook mogelijk het bedrag zelf te doneren.
Wat krijg je van ons?
Wij zijn natuurlijk enorm dankbaar als je de Dam tot Damloop voor ons wil lopen, en we geven dan ook graag iets terug! Je krijgt van ons:
–          Een prachtig Lawyers for Lawyers hardloop t-shirt
–          Een hardlooptraining onder begeleiding van professionele hardlooptrainers.
–          Broodjes en drankjes na afloop van de loop bij onze goede doelen stand
Interesse?
Stuur ons een e-mailtje! Je kan ons bereiken via admin@lawyersforlawyers.nl.
De Lawyers for Lawyers Dam tot Damloop 2018 wordt mede mogelijk gemaakt door: