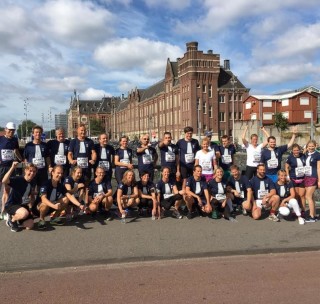 6 augustus 2019
D2D 2019: Team Lawyers for Lawyers
Veel advocaten zijn voortdurend 'on the run' voor de autoriteiten of andere opponenten in hun land. Lawyers for Lawyers zal met een team van 70 renners meedoen aan de goede doelen loop (10 Engelse mijl, 16,09 km). Door fondsen op te halen met deze run steunen zij hun collega's in nood.
De Dam tot Damloop 2019 is op zondag 22 september. Aan de 35ste editie kunnen 50.000 hardlopers meedoen. Het is één van de grootste businesslopen ter wereld. De ongeëvenaarde sfeer, de IJtunnel en het feit dat start en finish in twee verschillende steden liggen, maken dit evenement heel bijzonder.
Een sportieve uitdaging, zonder meer. Maar de renners die uit naam van Lawyers for Lawyers lopen, steunen ook hun collega-advocaten in nood.
Met het geld dat de renners inzamelen inzamelen steunen we advocaten in het buitenland die worden bedreigd, gehinderd of zijn gearresteerd vanwege hun werk. 
Het opgehaalde sponsorbedrag zetten wij bijvoorbeeld in om onze projecten voor advocaten in Turkije voort te kunnen zetten. Verder zullen we het komende jaar speciale aandacht vragen voor advocaten die tot langdurige gevangenisstraffen werden veroordeeld in verband met hun werkzaamheden.
Wil jij ook iets doen? Steun dan onze renners, en daarmee collega's in het buitenland! De renners zamelen donaties in op onze pagina op PIFworld.
De Lawyers for Lawyers Dam tot Damloop 2019 wordt mede mogelijk gemaakt door: