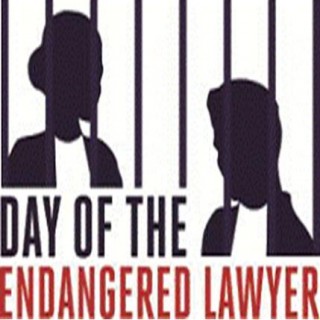 15 december 2020
Dag van de Bedreigde Advocaat 2021 – Azerbeidzjan
24 januari 2021 is de jaarlijkse 'Dag van de Bedreigde Advocaat'. Dit jaar staat de dag in het teken van advocaten uit Azerbeidzjan die vanwege hun legitieme werkzaamheden in de problemen komen. In het kader van deze dag worden op vrijdag 22 januari verschillende events georganiseerd, waaronder een online lezing waarvoor advocaten van harte uitgenodigd zijn!
Advocaten in Azerbeidzjan, met name diegenen die mensenrechtenzaken behandelen, ondervinden al jaren intimidatie, hinder en oneigenlijke inmenging bij het uitoefenen van hun beroep. Een groot aantal advocaten werd de afgelopen jaren van het tableau geschrapt of gearresteerd in verband met hun werk. Al in 2017 uitte een Speciaal Rapporteur van de Verenigde Naties daar zorgen over, toen hij zei dat: 'For those lawyers who are members of the [Azerbaijani] Bar Association, disciplinary proceedings have been one of the main means of retaliation for their human rights or professional activities. There are cases of several lawyers whose disbarment and sanctioning were unjustified and politically motivated'.[1]
De introductie van een wijziging van de Azerbeidzjaanse advocatenwet in 2018 heeft geleid tot een daling van het aantal praktiserende advocaten, en verdere problemen geïntroduceerd voor de advocatuur in Azerbeidzjan. Meer informatie over advocaten in Azerbeidzjan is te beluisteren in dit item van Bureau Buitenland.
Aanbieden petitie
Er zal een petitie worden aangeboden aan de ambassade van Azerbeidzjan waarin een dringende oproep aan de Azerbeidzjaanse overheid wordt gedaan te garanderen dat advocaten in Azerbeidzjan zonder problemen hun werk kunnen doen. In verschillende steden binnen en buiten Europa zal ook bij de Azerbeidzjaanse ambassades en consulaten dezelfde petitie aangeboden.
Online lezing door Emin Abbasov
Op vrijdag 22 januari om 17.00 uur zal in het kader van de Dag van de Bedreigde Advocaat een online lezing worden georganiseerd voor de Jonge Balie Den Haag door advocaat Emin Abbasov uit Azerbeidzjan. Tevens zullen vertegenwoordigers van Stichting Dag van de Bedreigde Advocaat en Lawyers for Lawyers kort spreken over de politieke situatie en de situatie van advocaten in Azerbeidzjan. Vanuit de Stichting Dag van de Bedreigde Advocaat zal Marjan Lucas een introductie verzorgen. Marjan Lucas is als politiek psycholoog veelvuldig werkzaam in conflictgebieden en is tevens werkzaam voor de Organisatie voor Veiligheid en Samenwerking in Europa (OVSE) bij verkiezingsmissies, laatstelijk in Azerbeidzjan in maart van dit jaar.
Programma
17.00 – 17.05               Opening (Jonge Balie Den Haag en Lawyers for Lawyers)
17.05 – 17.15                Introductie door Marjan Lucas (Stichting Dag van de Bedreigde Advocaat)
17.15 – 17.45                Lezing advocaat Emin Abbasov
17.45 – 18.00               Q&A en afsluiting
Aanmelden
Klik hier om je aan te melden. In de week van de lezing zal aan de geregistreerde deelnemers een link voor deelname worden verstuurd.
Over de Dag van de Bedreigde Advocaat
De Dag van de Bedreigde Advocaat is in 2009 op initiatief van de Commissie Defense de la Defense van de Europese Democratische Advocaten federatie (AED-EDL) in het leven geroepen, een jaar later heeft de Europese Associatie van Advocaten voor Democratie en Mensenrechten (ELDH) zich aangesloten. Het project wordt nu ondersteund door verschillende organisaties, waaronder Lawyers for Lawyers, IDHAE, CCBE, UIA, CNB/OIAD, IAPL, VSAN en vele andere organisaties.
De Dag van de Bedreigde Advocaat geeft aandacht aan de situatie van advocaten over de hele wereld die risico lopen in verband met hun strijd voor mensenrechten en het handhaven van de rechtsstaat. De dag is bedoeld om het bewustzijn te creëren dat de uitoefening van de advocatuur in veel landen aanzienlijke risico's met zich meebrengt, en om de situatie in een bepaald land waar advocaten het slachtoffer zijn van schendingen van hun grondrechten vanwege de uitoefening van hun beroep aan de kaak te stellen. Elk jaar staat een ander land centraal.
[1] Report of the Special Rapporteur on the situation of human rights defenders on his mission to Azerbaijan, 2017, http://undocs.org/A/HRC/34/52/Add.3
Meer nieuws uit Azerbaijan