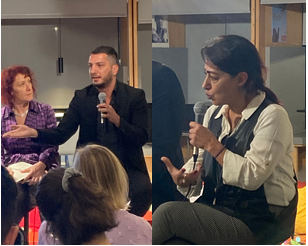 10 november 2022
Defending the Rule of law in Türkiye – A PEN Norway and Lawyers for Lawyers event
Last Thursday, Lawyers for Lawyers and PEN Norway hosted an Event on Türkiye's rule of law and the situation of lawyers in the country. With an enthusiastic audience, the event provided many interesting insights from first hand witnesses.
On Thursday 3 November 2022, PEN Norway and Lawyers for Lawyers (L4L) hosted an event about the ongoing crisis in the rule of law in Türkiye. Chaired by lawyer Ceren Uysal, the panel of speakers consisted of Veysel Ok and Ümit Büyükdağ, two top human rights lawyers from Türkiye, as well as Caroline Stockford, the director of PEN Norway's Indictment Project and PEN Norway's Türkiye advisor.
After introductions from the President of L4L Irma van den Berg, and the director of PEN Norway Froukje Santing, Veysel Ok and Ümit Büyükdağ answered questions about their work as human rights lawyer in Türkiye. Both lawyers had been indicted in the past as a result of the legitimate exercise of their work. Central to their conversation was the worsening condition of Türkiye's rule of law, and how NGOs could meaningfully engage with affected human rights defenders in Türkiye to support them in their work. To that end, Caroline Stockford pointed to the important 2020 and 2021 Türkiye Indictment Project Reports, which led to a change in Türkiye's Procedural Code in 2021. L4L worked on the project together with PEN Norway in the cases of Veysel Ok and Ümit Büyükdağ. You can read it here.
Lawyers for Lawyers has been active in Türkiye for many years, and will continue to do so in the future by monitoring trials and defending threatened lawyers there.