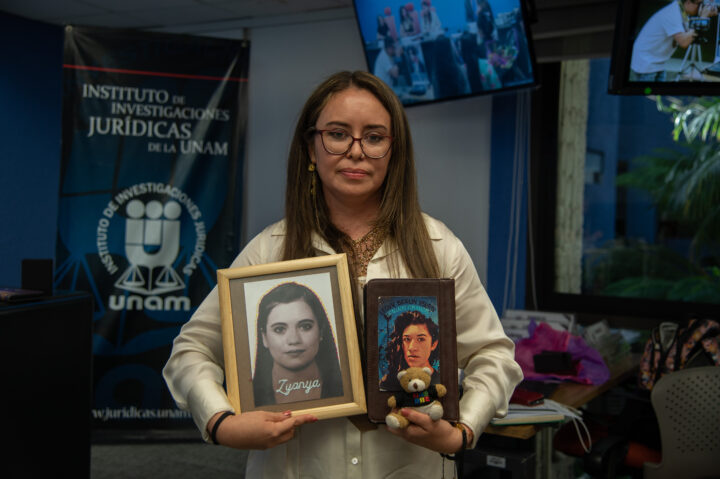 31 juli 2023
Ebru Timtik Award 2023 laureates
On 14 June, the Award Ceremony of the #EbruTimtikAward took place in Mexico-City which was presented to 2023 laureates Ana Yeli Pérez Garrido and Alicia de los Ríos Merino from Mexico.
On International Fair Trial Day, promoted by more than a hundred lawyers' organisations around the world, the third award ceremony was held, which for the first time is being presented in Mexico, named after the Turkish lawyer Ebru Timtik, who died at the age of 42, after a 328-day hunger strike in prison in which she denounced the lack of fair trial in her country, during a ceremony held at the National Autonomous University of Mexico.
In Mexico there is no adequate access to justice for victims of gross human rights violations and abuses since those responsible for administering justice in Mexico have failed to provide this. They also have failed to respect and ensure the fair trial rights of defendants during criminal proceedings, especially due to the inappropriate resort to pre-trial detention and abusive practices against those deprived of their liberty. Authorities from the executive branch continue to undermine judicial independence in the country, by constantly criticizing and undermining judges´ decisions, promoting demonstrations against the courts, and harassing independent judges and lawyers.
At the ceremony it was explained that the prize is being awarded for the third time, the previous two in Turkey and Egypt, now in Mexico, where for the first time it is being awarded to two people: Alicia de los Ríos and Anayeli Pérez Garrido.
Ana Yeli Pérez Garrido is a feminist lawyer, human rights defender, Mexican; founder and director of the organisation Justicia Pro Persona, legal advisor to the National Citizen Observatory on Feminicide and member of the Latin American Network of Strategic Litigation (ReLeg).
Alicia de los Ríos Merino is a lawyer and historian who has dedicated her life to search for her mother, a victim of forced disappearance in the 1970s, and accompanies victims of human rights violations. She was a member of Eureka, the first collective in Mexico made up of relatives of disappeared persons. She has been recently inteviewed by Advocatenblad and you can read the interview here.
The jury was composed of independent international experts with outstanding experience in relation to the right to a fair trial, including Costa Rican lawyers as well as Mexican feminist lawyer Lucha Castro.
The award ceremony was led by fellow jury member and feminist academic Iris Rocío Santillán Ramírez, who recognised the work of defenders in Mexico and the serious risks they face in their work.