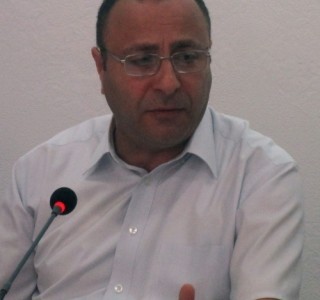 26 August 2015
Criminal investigation of human rights lawyer
UPDATE: On 25 August 2015, the Investigative Committee of Armenia terminated the criminal case against the human rights lawyer Tigran Hayrapetyan.
On 27 July 2015 human rights lawyer Tigran Hayrapetyan was informed about the criminal case which was opened against him by the Special Investigative Agency. This was reported by Frontline Defenders on their website. Hayrapetyan has been accused of hindering the running of an investigation by submitting too many petitions and asking provocative questions (in violation of Article 332 of the Criminal Code of Armenia). If charged, he faces up to 3 years imprisonment or a fine of 500 Euro.
These accusations are allegedly based on the lawyer's defense of his client Julietta Amarikyan. Julietta Amarikyan had been wrongfully committed to a psychiatric clinic by court order following a property dispute with her brother in November 2014. Tigran Hayrapetyan took up her case and managed to obtain her release from the clinic.
The Special Investigative Agency subsequently opened an investigation into the court decision to commit Julietta Amarikyan to a psychiatric clinic. In the context of the ongoing investigation, Julietta Amarikyan was obliged to undergo a further medical examination. During this examination, Tigran Hayrapetyan asked the investigators several questions relating to the case. These questions were considered "provocative", and the investigators later filed a complaint against him for 'interfering with the investigation'. Moreover, they argued that he had submitted too many petitions relating to the case, which further hindered the progress of the investigation. In total he had submitted three petitions, whereby he requested that an independent expert be included in the medical examination team.
Lawyers for Lawyers is concerned about the criminal investigation against human rights lawyer Tigran Hayrapetyan, and the criminal charges which he may face. Lawyers for Lawyers calls on the authorities of Armenia to ensure that Tigran Hayrapetyan can carry out his professional activities without improper interference.