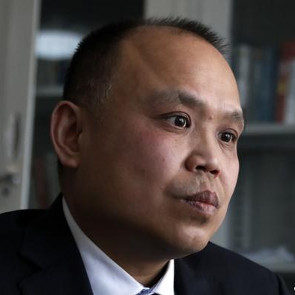 11 November 2020
Birthday message for Yu Wensheng
Dear Mr. Yu, dear Wensheng,
Congratulations on your 53rd birthday. We are thinking about you and the appalling situation you find yourself in during your birthday this year. Unfortunately, the harsh reality is that this is not the first birthday that you have to spend in detention. After you circulated an open letter in 2017, in which you called for five reforms to China's constitution including the institution of multi-candidate presidential elections, you were arrested on 19 January 2018 and lost your license to practice law.
Since then, you were kept incommunicado under residential surveillance in a designated location. After over 500 days of detention, you were convicted in May 2019 after a secret trial that took just a single day. The outcome of the trial remained unknown, however. After more than 900 days of detention, on 17 June 2020, your wife Xu Yan was informed that you had been sentenced to four years in jail, in addition to deprivation of your political rights for three years for 'inciting subversion of state power'. We hope with all our might that the pending appeal against the judgment is successful and that the Court will overturn the judgment at first instance, as well as that it will respect the basic principles of a fair trial, such as a public hearing.
Please know that we are thinking about your situation, that we are raising awareness by means of our #FreeTheLawyers-campaign about your imprisonment, and that we will continue to call upon the Chinese government for your unconditional release. We wish you strength and courage during this difficult time.
Focus group China, Lawyers for Lawyers