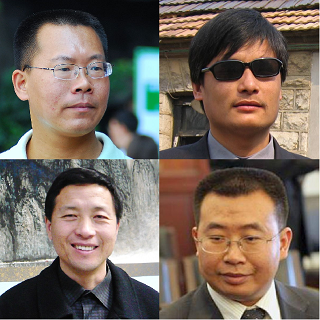 26 April 2011
China Tang Jitian and Jiang Tianyong released but under house arrest
In March 2011, L4L came to action for the three Chinese lawyers Tang Jitian, Jiang Tianyong and Teng Biao. They were arrested a few days after they had met on 16 February 2011 to discuss how they could help their colleague Chen Guangchen. The latter had caught the attention of the authorities because he had a video published that shows how he and his wife suffer from the house arrest they have been put under.
Of the three arrested lawyers, Tang Jitian was released first, on 5 April 2011. After his release however, he was immediately put under house arrest. Amnesty International reports that he is in bad health but has no access to adequate medical treatment because of the house arrest.
On 19 April 2011, Jiang Tianyong was also released, but he too has been placed under house arrest.
On 29 April 2011, Teng Biao returned home to his wife. She made clear that Teng Biao didn't want to speak to the media; she also refused to discuss his physical or mental condition.