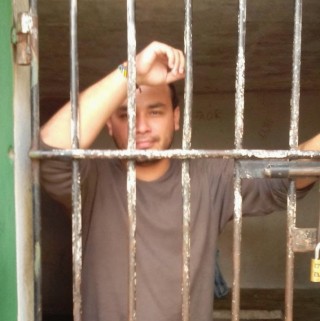 15 August 2014
Rommel Durán arrested and detained in poor conditions
On 9 August 2014, Rommel Durán Castellanos, Colombian lawyer, was arrested in the village Curumaní in the Cesar region. Rommel works for the legal team "Pueblos" and Department of Santander Fundación Comité de Solidaridad con los presos politicos (FCSPP). According to our information, Rommel was removed from his car by the police and then handed over to the National Crime Squad (Sijin). The arrest was made ​​on the basis of an arrest warrant for conspiracy. The officers involved wouldn't tell Rommel who had ordered his arrest.
After the arrest, agents of Sijin confiscated Rommel's mobile phone and filmed and photographed him. He wasn't allowed to contact his lawyer. In the night from Saturday to Sunday, when Rommel was being held in detention. many organizations have attempted to contact the agents of the detention facilities were Rommel was being held. No one responed to these requests for contact. After he was detained for 20 hours, Rommel was released on on August 10, 2014 early in the morning. The public prosecution announced that his arrest had been a mistake.
In the 20 hours that Rommel was detained, he spent a long time in hot basement while he was handcuffed. He was filmed and photographed without permission, he was not allowed to contact his lawyer, and he could not sleep.  Because of this treatment, a report on the incident was filed to the police .
The arrest of Rommel  could be connected to his work for the community Pitalito. Some members of the community were threatened by members of the police and Sijin Curumani on 23 July 2014. This news was distributed by- among others – Rommel.