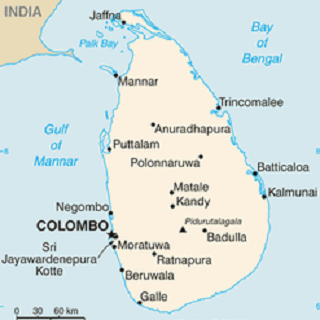 27 July 2022
Concerns about violence against lawyers in Sri Lanka
Lawyers for Lawyers is concerned about reports of violence being used against lawyers in Sri Lanka who are supporting protesters. At least one lawyer is reported to have been arrested and two lawyers, including the arrested lawyer, to have been assaulted after attempting to intervene in their professional capacity.
In the early hours of Friday morning, 22 July 2022, a joint operation by Sri Lanka's security forces forcefully removed peaceful protesters from the 'GotaGoGama' protest site. This incident happened one day after President Wickremesinghe took office. Reportedly, the security forces used excessive force against the protesters and arrested many.
When news of the forceful removal spread, lawyers went to the protest site to intervene in their professional capacity and offer legal counsel to arrested protesters. They were not allowed access. At least two lawyers who attempted to intervene in their professional activity were reported to have been assaulted. Also, among the arrested was at least one lawyer. We have been informed that the arrested lawyer produced his lawyer identity card and identified himself as a lawyer when he approached the Presidential Secretariat. After his arrest, the lawyer was produced before the Fort Magistrate's Court and was enlarged on bail.
Saliya Pieris, the President of the Bar Association of Sri Lanka (BASL), stated that the BASL strongly condemned the violence and the arrests. The BASL further called for an immediate stop to "unjustified and disproportionate actions of the security forces" against the protesters and called on the government to respect the rule of law and start an immediate inquiry into the incident.
Lawyers for Lawyers would like to emphasize the important role that lawyers play with regards to peaceful protests. In his report of June 2021, the Special Rapporteur on the rights to freedom of peaceful assembly and of association stated that "lawyers and legal practitioners play a crucial role in helping to ensure full respect for the rights to freedom of peaceful assembly and access to justice. They do so (…) by working to ensure that individuals and groups are protected against violations and abuses; by holding those responsible for rights violations to account; by pursuing remedies for those whose human rights have been violated in the context of assemblies; and by promoting structural changes oriented towards the reform of rights violating systems".
Earlier this year the Special Rapporteur presented the Guidelines for Lawyers in Support to Peaceful Assemblies which provide a set of key principles on the role of lawyers in upholding the rights to freedom of assembly and association, as well as a non-exhaustive list of practical recommendations for lawyers, aimed at supporting them in their work facilitating access to justice in the context of peaceful assemblies.
Meer nieuws uit Sri-Lanka