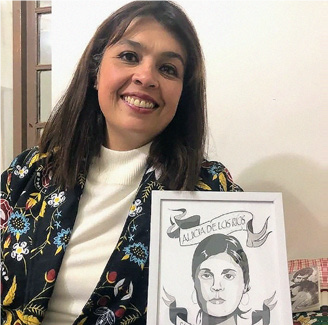 27 July 2023
'Crisis of today comes from crimes of the past'
Alicia de los Ríos Merino from Mexico lost her mother as a baby and now demands the truth as a lawyer.
By Trudeke Sillevis Smitt
It happened in 1978. Alicia de los Ríos Merino was just a baby when her mother was arrested. Never did she return, and it never became clear what had happened to her. De los Ríos's life still revolves around that disappearance. Together with her lawyers, she is doing everything she can to get a clarification. In addition, she is a lawyer in five other cases of enforced disappearance and in two cases of extrajudicial killings, all involving people who – in their time – resisted against those in power. 'Until 2002, it was not possible to file charges,' says De los Ríos. 'No one wanted to investigate these kinds of cases. In that year, a special commission within the Public Prosecutor's Office was created. We immediately filed charges then.
SILENCE PACT
After four years, the commission stopped, Delos Ríos thinks because of a "pact of silence" between those who are responsible or complicit and do not want the truth toto come to light. De los Ríos: "The general Public Prosecutor's Office must now look into it, but it's not progressing. The rule of law is still failing. 'She is pinning her hopes on a – with her help – truth commission, established by a decree of the current president in 2020. 'The commission has been inundated with thousands of cases, but we have seen progress since then in finding out what happened.'
Does it help that she is also a historian? 'Enormously. Obviously, for this human rights work you need different disciplines. 'In the case of De los Ríos's mother, witnesses had already testified that they had seen her on military bases. 'Thanks to the presidential decree, we are now allowed to visit those bases. Very important, because it means recognition that those witness statements are not just talk. We have also already had seven meetings with ex-military and former employees of the secret service. The most likely scenario is that they executed my mother and thrown her body from a plane into the sea.'
INSTINCT
Is there still a glimmer of hope that her mother is alive is? 'No. But the truth must come out. For me personally, it's a kind of instinct; I want to know what happened to my mother. But also for society it is important that the silence is broken, that responsibility is taken.' There are still enforced disappearances in Mexico, often accompanied by torture and ending in murder. Today, most are related with drug trafficking. De los Ríos: "Both the cartels and the state are guilty of it. It is not a struggle of one party against another; it happens in a general context of insecurity and instability.' According to De los Ríos, this reality can be traced back to the state terror from the time her mother disappeared. 'I call it the pedagogy of impunity, it has become commonplace. In other countries in Latin America such as Chile and Argentina, after a period of dictatorship there was a moment when it was said: never this again. We have not had that moment. Only when we face the truth can we move forward with the democratization of our country.
On June 14, during the International Fair Trial Day in Mexico, she was presented with the Ebru Timtik Award presented. A very emotional moment, also because my own lawyers were there with whom I have been working years. It is a recognition for everyone who works for human rights.' The second laureate was lawyer and human rights activist Ana Yeli Pérez Garrido, who primarily fights violence against women and fighting gender inequality.
This interview was originally written by Trudeke Sillevis Smitt and published in Dutch in the Dutch lawyers' magazine Advocatenblad. See here for the original Dutch version.