1 December 2008
Guatemala Chairman Mayan Lawyers' Association threatened
In the night of 2 August 2008 the car of lawyer Amilcar Pop was forced to an emergency halt. Two masked men with guns drawn stood on either side of the car. While screaming "We're going to kill you, you're dead already" they tried to open the doors of the car. Pop managed to escape from his attackers by driving away at high speed, but he was barely able to shake off his attackers. He then drove to the hospital to be treated for the injuries he suffered during the emergency halt.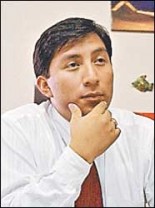 Human rights lawyer Amilcar Pop is the chairman of the Mayan Lawyers' Association in Guatemala. Pop has been receiving telephone threats for more than a year. In May 2008, his wife was told over the telephone: "you're getting yourselves mixed up in stupid things, take care, we're going to kill your husband." Pop has given the caller's number to the police, who have started an investigation.
According to Pop, these threats relate to his representation of the residents of San Juan Sacatepéquez, located near Guatemala City. He represents them in a dispute over the construction of a cement factory in the area. The residents, assisted by the Mayan Lawyers' Association, invoke their rights to be heard on the construction of the factory.
Between May 2007 and January 2008 other members of the Mayan Lawyers' Association also received threatening letters and telephone calls, all containing the same message: stop the legal assistance of the residents that oppose construction of the cement factory. As a result of these threats the members of the Mayan Lawyers' Association in November 2007 asked the Inter-American Commission on Human Rights to call upon the authorities in Guatemala to protect them.
Local authorities accuse Pop of threatening residents, without there being any evidence for such accusation. Along with the recent attack on Pop this is part of a series of threats intended to make Pop cease his legal assistance to the residents of San Juan Sacatepéquez.
L4L on 29 August 2008 called upon the authorities of Guatamala to provide adequate protection to Amilcar Pop and other human rights lawyers working with him. The letter directed to the President of Guatemala can be viewed here.