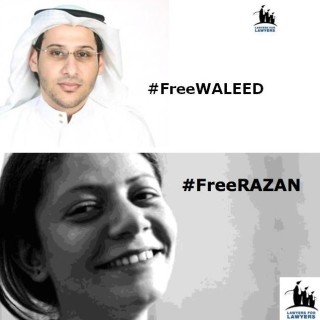 9 December 2015
Human Rights Day: Join Lawyers for Lawyers's campaigns!
On 10 December – Human Rights Day- people from all over the world will write letters. For those who are in prison, who are tortured or who are threatened. Among them are many lawyers that Lawyers for Lawyers is campaigning for. On a regular basis, we support lawyers by writing letters to the authorities of the country where the lawyer is based. To increase the effect of these letter-writing actions, we ask individual lawyers to write too. Furthermore, we try and raise awareness for the situation of lawyers through social media attention.
---
Waleed Abu al-Khair
Waleed Abu al-Khair is a prominent human rights lawyer from Saudi Arabia. He defended many victims of human rights violations. In July 2014 he was sentenced to fifteen years in prison, a travel ban of equal duration following imprisonment and a fine of SR 200.000,- (approximately EUR 47.000,-). The charges against him were, amongst others, "striving to overthrow the state and the authority of the King".
Lawyers for Lawyers has been campaigning on behalf of Waleed for a long time, and asks you to do the same! There are several options:
– Share Waleed's picture Facebook
– Write a Tweet about Waleed with the hashtag #FreeWALEED
– Join the letter writing campaign the Lawyers for Lawyers organized!
---
Razan Zeitouneh
Razan Zeitouneh has been one of the key lawyers defending political prisoners in Syria since 2001. Since the beginning of the crisis in 2011, Razan Zeitouneh has played a key role in efforts to defend human rights for all and protect independent groups and activists in Syria. She was abducted, together with her husband and two colleagues, on 9 December 2013 in Douma. Since then, no one has heard of them. Since then, no one has heard from them.
Help us to make sure that Razan will not be forgotten! You can:
– Share Razan's picture on Facebook
– Write a Tweet about Razan with the hashtag #FreeRAZAN
Meer nieuws uit Saudi Arabia