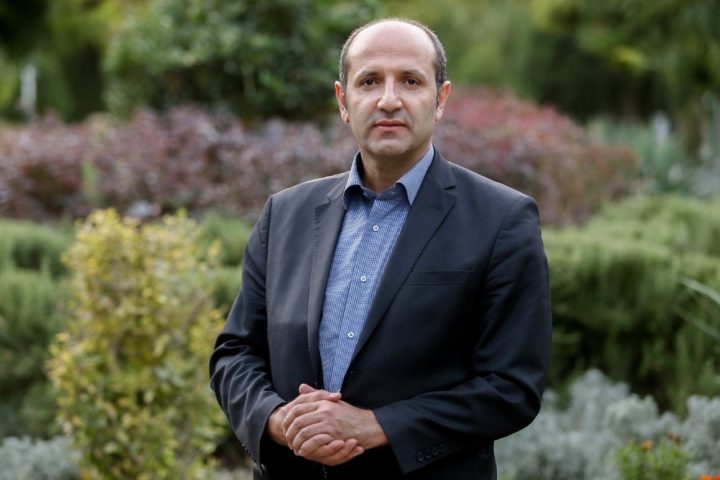 4 March 2020
Human rights lawyer Hossein Ahmadiniaz in exile in The Netherlands: ,,Rule of law is non-existent in Iran"
,,I have no political goals. I'm not a criminal. I'm a lawyer"
Text: Johan van Uffelen
February 26 marked Lawyers Day in Iran. A day that has been established by the Bar Association of independent lawyers. But it is of no meaning for the Iranian regime. ,,This date does not appear in any official calendar", says human rights lawyer Hossein Ahmadiniaz (47), who now lives in exile in The Netherlands. It proves the contempt the ayatollahs have for lawyers who do not work in accordance with their strict guidelines.
,,For the regime this day simply doesn't exist. They consider the normal concept of defense attornies a Western absurdity". There is sadness in his voice. ,,In Iran there is no rule of law at all. Human rights, democracy and an independent judiciary are non-existent. There is no due process for individuals suspected of 'national security crimes'."
International observers confirm his words. Iran has a documented history of harassing and jailing lawyers. In a broader context critics of the regime are arrested and prosecuted, minorities and women are treated unequally, political opponents, students, journalists and lawyers disappear behind bars.
Brave
Hossein speaks out freely, despite the risks. ,,My profession requires me to be brave".
For a long time he was a close colleague of Nasrin Soutadeh, one of the human rights lawyers for whom Lawyers for Lawyers is now taking action in the context of the #FreeTheLawyers Campaign. Nasrin represented opposition activists including women prosecuted for removing their mandatory headscarves (hijab). She was charged with spying, spreading propaganda and insulting Iran's supreme leader Ali Khamenei. On 11 March 2019  Nasrin was sentenced to 38 years in prison and 148 lashes. Hossein, to his great regret, cannot say how she is doing now. He turns his eyes to the sky: ,,The Almighty knows. Any contact with her in Evin Prison is impossible."
Disappear
Hossein himself fled in 2018 with his two sons (Zaniar, 19 and Zana, 15) to The Netherlands after being told that he was in great danger: ,,Disappear Hossein, before the regime makes you disappear."
Hossein's powerful eyes are full of emotion. ,,I didn't even have the time, and also didn't dare, to say goodbye to my mother, my brothers and sisters. It was a very sad day. I could never have imagined that I would be happy to see my beloved fatherland disappear further and further beneath the plane." A deep sigh: ,,But on the other hand, I can't describe the feeling the moment when I got that stamp in my passport at Schiphol."
He and his sons now live in the Rotterdam-area. Following in his father's footsteps, Zaniar is studying law. Zana has not made a choice yet.
They were able to escape just in time because Zaniar had just been sentenced to eight years in prison for his participation in the major protests of 2018. Hossein: ,,In more than hundred cities, thousands of people demonstrated. I was the lawyer for many students. One of them was Zaniar."
Revolutionary courts
Why was he threatened? ,,Because I signed an open letter that denounced the judiciary system." He explains how the legal system in Iran works. According to the Islamic Republic's constitution, the judiciary is an independent power. But in practice the entire legal system is not only under the authority of the Minister of Justice, but also of the Head of the Judiciary, appointed by the Supreme Leader himself; ayatollah Khamenei. ,,All politically sensitive and so-called state security cases are conducted by special Revolutionary Courts. Hossein: ,,The aim of these courts is to give full support to the regime. The judges are appointed by the Head of the Judiciary. They pronounce verdicts based on the principles of the Islamic revolution. And only a select few state-approved lawyers are allowed to defend clients accused of security offenses."
Tortured
Hossein is a very polite, modest man, dressed in an impeccable three-piece suit. But now he sounds really angry: ,,They have divided the legal profession into 'us and them'. Those who are government-vetted and those who are not."
Apart from that open letter, the authorities also resented Hossein acting as defence lawyer in two major cases and the interviews he gave to international media about them.
Hossein was the lawyer for Ramin Hossein Panahi, accused of being a member of the forbidden Kurdish opposition party Komala. ,,It was a very unfair trial. Yes, he was against the regime, but certainly not a terrorist. He was tortured upon arrest. Eventually he was sentenced to death and executed in 2018. After the hanging Kurdish parties began a huge strike. I was arrested for voicing criticism and for giving interviews."
Shinabad-girls
Ahmadiniaz also represented the families of several girls who were victims of a horrible fire at their state elementary school in the village of Shinabad. The tragedy left nearly 28 children burnt. Two young girls died. But their families were denied full compensation." With an indignant look: ,,You know why? Because the victims were girls. The 'diyah' (blood money according to Islamic law) allocated for them was cut in half because of their gender. All women in Iran face this discrimination when they are the victims of an accident. I expressed my criticism that the government obviously accepts this inequality. This is in flagrant conflict with the Iranian Constitution. My criticism was, of course, was used seriously against me."
He raises his hands and speaks emphatically: ,,But I have not done anything wrong. I have honourably defended my clients within the law." Hossein himself belongs to one of the many minorities in Iran. He has Kurdish roots and is Sunni ,,I have even been told : You are certainly being paid by ISIS!". More than once during the interview he emphasises: ,,I have no political goals at all. I'm not a criminal. I'm a lawyer."
Ties
At the moment a large number of Iranian human rights lawyers are in custody because of their work. Among them some good friends and colleagues of Hossein: Mohammed Najafi, Amir Salar Davoodi and Farhad Mohammadi. They are serving prison sentences of between 20 and 36 years.
At least fifteen lawyers are awaiting their verdicts. ,,But not only them. An Iranian journalist has been sentenced to ten years for insulting the imam on Twitter."
To underline the absurdities of the regime: ,,Did you know that keeping pets at home is forbidden? And that men are not permitted to wear ties. It is all based on ideology, not on any law."
Misery
He welcomes international pressure. But emphasises that the leaders don't care much about fingers raised from abroad. ,,They don't take any responsibility. They are schizophrenic about security." And human rights sanctions? ,,Sure, but they have to be smart. They must hit the authorities themselves – for instance through their personal earnings from oil or via their children who are studying abroad – and not by subjecting the population to further misery.
Big jail
Hossein is studying Dutch. And he manages quite well. He is pleased with the compliment. Apparently he does not expect to be able to return to his beloved homeland in the near future. ,,Only when fair trials, legal proceedings and the independence of judiciary come back, I can go home. ,,Unfortunately", he says while raising his hands, ,,I am not optimistic about it as long as the supremacy of the ayatollah lasts. Two months ago there were large protests again. Intelligence services said that maybe 1.500 people were killed, but I have heard figures of 5.000 deaths. More than 10.000 were arrested." He stares ahead. ,, Nowadays Iran is a big jail."
© Article: Johan van Uffelen
Disclaimer: The views expressed in this interview are those of the interviewee and the author and do not necessarily reflect those of Lawyers for Lawyers.