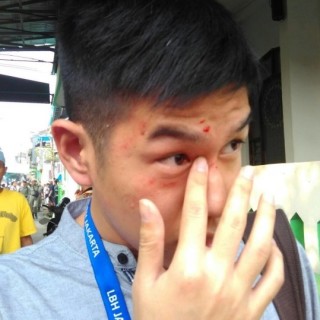 13 April 2016
Lawyer Alldo Fellix Januardy attacked
Lawyers for Lawyers and Lawyers' Rights Watch Canada (LRWC) are concerned about the physical attack on lawyer Alldo Fellix Januardy from Indonesia.
Alldo Fellix Januardy was attacked following his effort to negotiate a suspension of the plan to forcefully evict his clients. The Administrative District Court was still to issue a ruling on the legality of this land eviction of residents of a riverbank slum. Furthermore, the clients were still awaiting the outcome of an audience with the Municipal Council. Alldo Fellix Januardy requested the police to await the outcome of the legal process before taking any actions. Instead of accepting this legitimate request, members of the Civil Service Police Unit attacked Alldo Fellix Januardy, resulting in wounds on his eyebrow and chin.
Lawyers for Lawyers and LRWC called on the Indonesian authorities to carry out an immediate, thorough and impartial investigation into the attack of Alldo Fellix Januardy and make sure that those responsible will be brought to justice in accordance with international standards.
Meer nieuws uit Indonesia