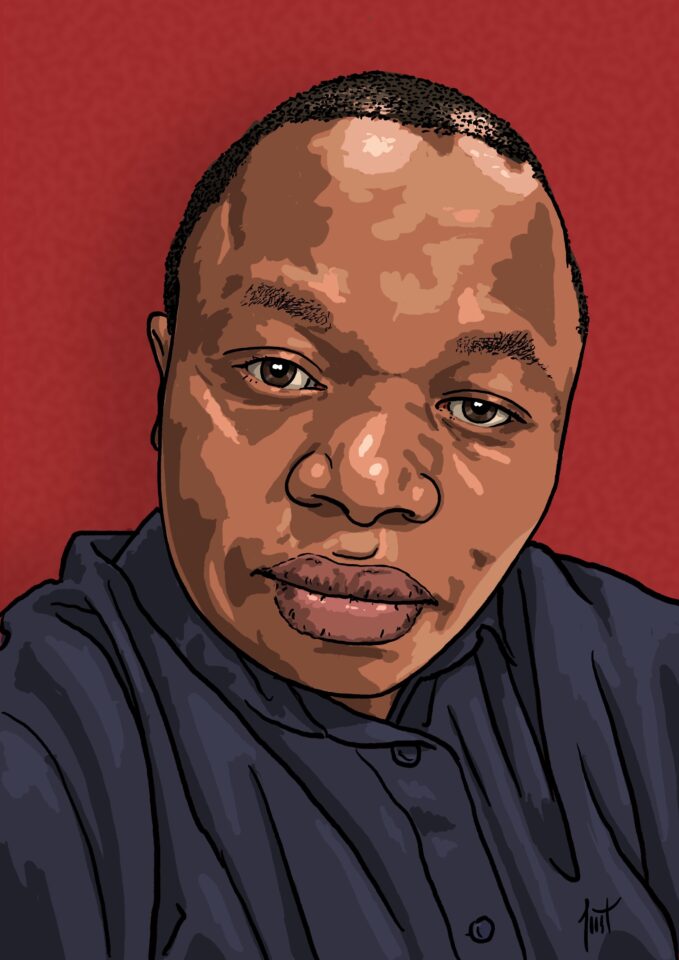 3 April 2023
Interview with att. Olivier Bahemuke Ndoole: "Collaboration with our neighbouring countries Rwanda and Uganda is necessary to protect our common forests and wild animals, but the lack of clear public policies is preventing that"
Olivier Bahemuke Ndoole is a Congolese environmental and human rights activist and lawyer, living and working in the city of Goma. As executive head of his organisation 'Alerte Congolaise pour l'Environnement et les Droits de l'Homme' (ACEDH), he advocates for transparent, accountable, fair and sustainable governance of land tenure regimes for DRC's lands, national parks, forests and lakes and for nature conservation in general. Mr. Olivier Ndoole is also fighting for legal and institutional reforms in the areas of energy, access to land and the environment, legal aid for environmental defenders and local land rights. This is a real challenge, however, as corruption is rampant, and the province of North Kivu is currently under siege and faces constant insecurity.
Living and working in Goma, which is situated in the province of North-Kivu, Mr. Olivier Ndoole finds himself in the hearth of DRC's nature. The nature which he seeks to protect through local specialized laws. Goma lies on the shore of lake Kivu and close to National Parc Virunga which is UNESCO World Heritage. Mr. Olivier Ndoole tells us that the illegal trade and smuggling of fauna and flora, due to for example the inflation of local and foreign armed forces and groups, circulation of small arms and light weapons and mining activities, are issues he is currently working on. Most of these issues go hand in hand with deforestation. "We recently succeeded in obtaining a favourable decision in a case concerning the cancellation of a fishing permit in a protected area (Lake Edward, a lake that is part of the Virunga Park) on the basis of our Congolese forestry code combined with Article 25 of Law No. 14/003 of 11 February 2014 relating to nature conservation. The forestry law n°0011/2002 of 29 August 2002, in its article 134, gives the right to representatives of indigenous populations and local civil society organisations to bring a civil action concerning the environment and it is on this point that we have based our case."
But much more legal and institutional reforms on energy and environmental issues are needed. Mr. Olivier Ndoole believes that an anthropogenic approach to fight for environmental protection and climate justice is the way to go. "With ACEDH, we are fighting for our nature reserves to become public entities worthy of their own rights under the law." Unfortunately, the Congolese government does not fully agree with this view and believes that humanity is dominating nature to the detriment of the future. This is expressed in options for economic policies that favour the exploitation of fossils in forests and other.
Mr. Olivier Ndoole shares his fear that the degree of corruption in the legal system is higher than ever before, forming an obstacle to environmental lawyers and judges in exercising their profession. This leads to legal uncertainty. For example, mining permits are still being granted to big companies, who on their term do not respect the laws nor communicate about their plans to local communities. Some businessmen often interfere in cases themselves. Not only on national level, but also in cross-border cases with neighbouring countries Rwanda and Uganda, environmental governance is a struggle due to political obstacles and because the idea of equity in general is problematic. The ACEDH team therefore focuses on training important actors in the legal field through mobile legal clinics and environmental trainings, notably for lawyers, public prosecutors, judicial police officers, officers of the armed forces and judges. They train environmental lawyers by sensitising and accompanying them to go and bring actions to test justice in environmental cases. Furthermore, ACEDH organises workshops for Congolese and Ugandan magistrates to educate them on environmental protection laws. However, some of the latter are more reluctant to participate in environmental justice training due to political and security uncertainties, and subsidiary because of the language barrier between the two countries.
According to Congolese law, lawyers cannot be hindered in context of their work. But this is not ensured at all, says Mr. Olivier Ndoole. Especially now when military courts have taken over jurisdiction, as the province of North Kivu is currently under siege. This situation has its consequences for the safety and harmonious exercise of the legal profession for (environmental) lawyers. At present, all offences related to state security, murder, criminal association, armed robbery etc. are dealt with by these military courts. Five environmental and land defenders were prosecuted under RP 03912/022A, among who some fellow local environmental defenders based in the villages Rutshuru and Masisi which is close to Mr. Olivier Ndoole's home. One of them was sentenced to twenty years of imprisonment, solely for defending the land rights and healthy environment of local farmers. Lawyers also get intruded in their professional service by sudden theft or destruction of file documents, they get intimidated by phone calls, mugged in their private homes, and some lawyers have even received death threats. Mr. Olivier Ndoole himself was a victim of several attacks, torture and kidnapping, which led to his hospitalisation in Goma in 2015. "Following this, I went into exile for some time. Back home in 2021, I again experienced threats and criminal visits and a few months ago I still had security and protection concerns with my colleagues. The organisation ACEDH itself has even experienced terrible security challenges that have caused the office to be temporarily closed due to security emergencies."
A final issue which blocks the work of environmental lawyers daily, is the lack of technical logistics in the legal system. Because of the unavailability of scientific equipment, there is a huge issue with verification of evidence. Mr. Olivier Ndoole gives the example of a theft that involved illegal elephant meat, which was reportedly replaced by pork during the investigation. There were no technical means of investigation, such as laboratory equipment, and the case was dismissed.
For the future, Mr. Olivier Ndoole hopes that education and training of judges and lawyers will help to strengthen environmental litigation and therefore harmonise laws affecting nature conservation. He also hopes for better governance and inter-state collaboration between neighbouring countries, one that prioritises the need to better protect their shared nature and beautiful national parks. "Collaboration between the DRC, Rwanda and Uganda is essential. So is the collaboration, federation of judicial knowledge and exchange of experiences between environmental lawyers from all over the world, in order to gain knowledge and strengthen the fight for the environment, as well as to make the problems encountered more visible."
Meer nieuws uit Democratic Republic of Congo