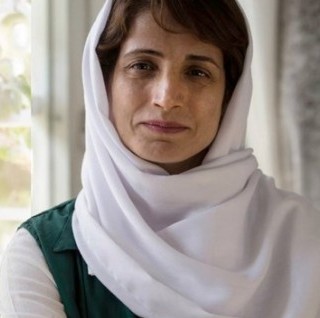 12 December 2014
Lawyers for Lawyers urges authorities to stop harassing Nasrin Sotoudeh
Lawyers for Lawyers was informed that on Wednesday 10 December 2014, Nasrin Sotoudeh was arrested and detained for several hours by the Iranian authorities. Her husband confirmed her arrest on Facebook, adding that it was the authorities' present to them on the occasion of international human rights day, which is celebrated annually on 10 December.
Nasrin Sotoudeh is a well-known Iranian lawyer, famous for her defence of those whose fundamental rights are being violated, be it persons who received the death penalty for facts committed when they were minors, the defence of Baha'is, opposition activists following the 2009 presidential elections, and others in need of her competent assistance. She is a winner of the prestigious 2012 Sakharov Prize of the European Parliament. Ms. Sotoudeh was previously arrested in 2010, and sentenced to eleven years imprisonment in 2011, and she was released in September of 2013. On October 18, 2014, Tehran's Bar Association communicated a ruling to Ms. Sotoudeh that her law license is to be suspended for three years, based on a complaint filed by the Islamic Revolution Court's Prosecution Office in Evin prison. The complainant had asked for her license to be revoked based on her conviction and sentence in 2011. End of October 2014, she was arrested again, whilst participating in a peaceful protest against acid attacks on women.
Lawyers for Lawyers, together with Lawyers Rights' Watch Canada, urges the Iranian Government to stop its campaign of harassment of Ms. Sotoudeh and other human rights lawyers, by repeatedly arresting them and banning them from practicing as a lawyer. This repulsive campaign seems to be aimed at obstructing these human rights defenders to provide protection to those most in need of their assistance. L4L will continue to monitor this case closely.