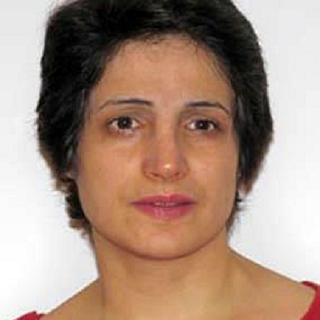 18 September 2013
Iran Release Nasrin Sotoudeh great news for legal profession in Iran
"The release of Nasrin Sotoudeh is great news for the Iranian Bar and again shows that the new Iranian President rapidly leaves the anti-lawyers policies of his predecessors behind him", says Phon van den Biesen, President of Lawyers for Lawyers (L4L). "It is not often that a new government reverses the political abuse of the legal system by its predecessor so drastically and quickly."
Only two weeks ago, another Iranian human rights lawyers was released: Javid Houtan Kian, who had been imprisoned under poor conditions for three years in an isolated prison and, like Nasrin Sotoudeh, had many years in prison ahead of him.
Not long before, the Iranian government decided to stow away the draft law aimed at strict regulation of the legal profession, including tight governmental supervision, that was prepared by the previous government.
L4L has in the last years continuously worked in support of imprisoned human rights lawyers in Iran. There were letter-writing campaigns in 2010, 2011 and 2012 and when Nasrin Sotoudeh went on hunger strike in 2012 because the regime imposed intimidating measures against her husband and child, L4L demonstrated before the Iranian Embassy in The Hague and subsequently had a long conversation with the Iranian Ambassador. That same week the measures were withdrawn so that Nasrin Sotoudeh could end her hunger strike.
Recently, L4L drew attention to Houtan Kian with a short video that spread rapidly across the globe through the internet. In the video human rights lawyers from all continents, who have been victims of government repression themselves, expressed their solidarity with Houtan Kian.
"Now continue for the others," is L4L's credo. There are still human rights lawyers in prison in Iran, while a great number of others remain in exile abroad.
Further information on Nasrin Sotoudeh
Nasrin Sotoudeh defended many of the human rights activists who were arrested after the presidential elections in June 2009. She also defended Shirin Ebadi, the human rights lawyer and Nobel laureate who co-founded the Defenders for Human Rights Center. She also acted as lawyer of the Iranian-Dutch Zahra Bahrami, who was executed in Iran on 29 January 2011. Nasrin Sotoudeh was arrested on 4 September 2010.
Sotoudeh was originally sentenced to prison for 11 years, but in appeal that sentence was reduced to 6 years. Also, she was banned from practising law and travelling abroad for a period of 20 years. At the moment it is unclear whether these latter two sanctions will remain in place.