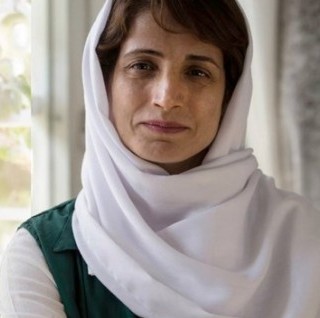 22 October 2014
Nasrin Sotoudeh's law license suspended, sit-in to protest
On 18 October 2014, a disciplinary investigation panel of Tehran's Bar Association communicated a ruling to Ms. Sotoudeh that her law license is to be suspended for three years based on a complaint filed by the Islamic Revolution Court's Prosecution Office.  In August 2014, a first disciplinary panel of the Tehran Bar Association rejected a similar request filed by the same complainant and upheld Ms. Sotoudeh's right to practice law. According to our information, the Head and the Deputy Head of the Iranian Bar Association were repeatedly under pressure to revoke Sotoudeh's lawyers license.
In protest to this ruling and in protest against the general state of legal representation in Iran, Sotoudeh began a sit-in on October 21 at the Iranian Bar Association in Tehran. She has raised four demands to the Iranian Bar Association; to remove the draft proposal on attorneyship of the parliaments agenda, to review the forced unemployment of dissidents, to review the state of the legal practise in Iran, and to restore her law license.
Lawyers for Lawyers is concerned about the recent suspension of Sotoudeh's license. L4L has been campaigning through different channels for some of the issues as raised by Sotoudeh, like the UPR-submission for Iran and the contacts with country delegations in Geneva on 'pre-session' of UPR-info.
More information on Nasrin Sotoudeh:
Nasrin Sotoudeh defended many of the human rights activists who were arrested after the presidential elections in June 2009. She also defended Shirin Ebadi, the human rights lawyer and Nobel laureate who co-founded the Defenders for Human Rights Center. She also acted as lawyer of the Iranian-Dutch Zahra Bahrami, who was executed in Iran on 29 January 2011. Nasrin Sotoudeh was arrested on 4 September 2010.
Sotoudeh was originally sentenced to prison for 11 years, but in appeal that sentence was reduced to 6 years. Also, she was banned from practising law and travelling abroad for a period of 20 years. She was released early in September 2013.
Lawyers for Lawyers has in the last years continuously worked in support of imprisoned human rights lawyers in Iran. There were letter-writing campaigns in 2010, 2011 and 2012 and when Nasrin Sotoudeh went on hunger strike in 2012 because the regime imposed intimidating measures against her husband and child, L4L demonstrated before the Iranian Embassy in The Hague and subsequently had a long conversation with the Iranian Ambassador. That same week the measures were withdrawn so that Nasrin Sotoudeh could end her hunger strike.