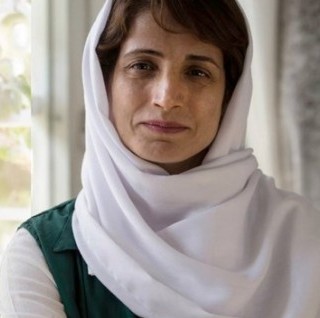 27 June 2015
New verdict on suspension license Nasrin Sotoudeh
On 23 June 2015, Nasrin Sotoudeh was informed about the new verdict issued by Branch 2 of the Lawyers' Disciplinary Court of the Bar Association, which stated that the sentence suspending her lawyer's license was reduced from 3 years to 9 months. Nine months have already passed since the previous verdict was issued, which could mean that Nasrin Sotoudeh can take action to renew her license within the next weeks.
Nasrin Sotoudeh defended many of the human rights activists who were arrested after the presidential elections in June 2009. She also defended Shirin Ebadi, the human rights lawyer and Nobel laureate who co-founded the Defenders for Human Rights Center. She also acted as lawyer of the Iranian-Dutch Zahra Bahrami, who was executed in Iran on 29 January 2011. Nasrin Sotoudeh was arrested on 4 September 2010 and originally sentenced to prison for 11 years, but in appeal that sentence was reduced to 6 years. She was released early in September 2013. On October 18, 2014, Tehran's Bar Association communicated a ruling to Ms. Sotoudeh that her law license is to be suspended for three years, based on a complaint filed by the Islamic Revolution Court's Prosecution Office in Evin prison. The complainant had asked for her license to be revoked based on her conviction and sentence in 2011.
Lawyers for Lawyers welcomes the decision of the Disciplinary Court, and will continue to monitor Nasrin Sotoudeh's situation closely.