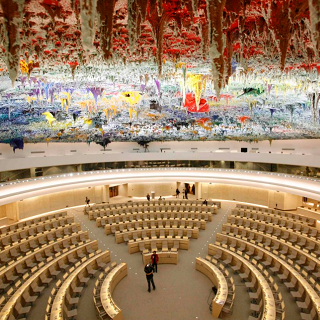 30 March 2023
Joint oral statement during ID OHCHR report on the situation of HR in Belarus
On 22 March 2023, Lawyers for Lawyers alongside the International Bar Association's Human Rights Institute, the Law Society of England and Wales and Lawyers' Rights Watch Canada delivered an oral statement about the findings of the OHCHR Examination report during the Interactive Dialogue on the OHCHR report on the situation of human rights in Belarus in the run-up to the 2020 presidential election and in its aftermath. The Interactive dialogue took place during the 52nd session of the UN Human Rights Council.
The statement reads as follows:
The International Bar Association's Human Rights Institute, the Law Society of England and Wales, Lawyers for Lawyers and Lawyers' Rights Watch Canada continue to be alarmed at the deterioration of the situation in Belarus, with ongoing widespread and systematic gross human rights violations, including torture and ill treatment, unnecessary and disproportionate use of force, and arbitrary arrests and detention. No remedy is left at the domestic level for victims to seek justice.
We condemn the lack of judicial independence and other fair trial guarantees, as well as criminal prosecution of human rights defenders. As of January 2023, about 1,500 persons in Belarus, including lawyers, human rights defenders and political opponents are arbitrarily detained. The recent politically motivated sentences against Viasna leaders, including Nobel Peace Prize laureate Ales Bialiatski, are emblematic of the collapse of the rule law in the country. Belarus is fourth globally in detaining journalists and, since 2022, has repeatedly increased offences carrying the death penalty, even for less serious crimes.
Last year's OEB's Report concluded that there is sufficient basis to warrant further assessment of evidence to pursue international criminal accountability. We urge this Council to renew and enhance the accountability mechanism, by establishing an Independent Mechanism that builds on the work of the OHCHR Examination.