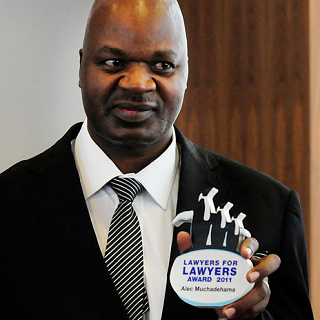 18 April 2011
L4L First L4L-Award for Alec Muchadehama
The first Lawyers for Lawyers Award, established by the Dutch Foundation Lawyers for Lawyers, was presented on 15 April 2011 to Alec Muchadehama, a human rights lawyer from Zimbabwe.
For reports and videos of the ceremony, please see here.
Alec Muchadehama has worked for Zimbabwe Lawyers for Human Rights since 2003 to defend the many activists, opposition leaders and people who are civil-society actors. He travels all across his native country to trace missing activists. Muchadehama is constantly under threat from the government. He has already been arrested and prosecuted on a number of occasions, and after eluding a kidnap attempt, he went into hiding in an embassy. Meanwhile many of his colleagues have fled the country but, despite everything, Alec Muchadehama continues to devote himself to defending human rights in a country that is in a deep state of crisis. Here you can read more information about Alec Muchadehama.
Human rights lawyers from all around the world have been nominated for the Award. A jury of experts (Heikelina Verrijn Stuart, Theo van Boven, Egbert Myjer and Els Swaab) chose Muchadehama because of his exceptional perseverance; "Alec Muchadehama showed extraordinary courage in a country controlled by violence and arbitrary rule, at great risk to his own life".
The Lawyers for Lawyers Award was established on the occasion of the 25th anniversary of Lawyers for Lawyers (L4L). L4L has committed itself to enabling lawyers to practice in freedom and independence in conformity with international law and the Universal Declaration of Human Rights, the Basic Principles on the Role of Lawyers and the Declaration on Human Rights Defenders of the United Nations.
In addition to a special memento, the winner received a sum of € 10,000. L4L also hopes that the attention and publicity that goes with the presentation of the Award will offer him some form of protection.
Alec Muchadehama accepted the Award on 15 April 2011 in Amsterdam at the Lawyers for Lawyers Seminar held on the occasion of its 25th anniversary. Read his acceptance speech here.
More information about Lawyers for Lawyers and the Seminar can be found on this website. You can also send an email to info@lawyersforlawyers.org or contact Adrie van de Streek, L4L's Executive Director (+31 6 262 743 90) or Phon van den Biesen, L4L's President (+31 6 520 612 66).
Lawyers for Lawyers wishes to thank Allen & Overy for making the L4L-Award possible.