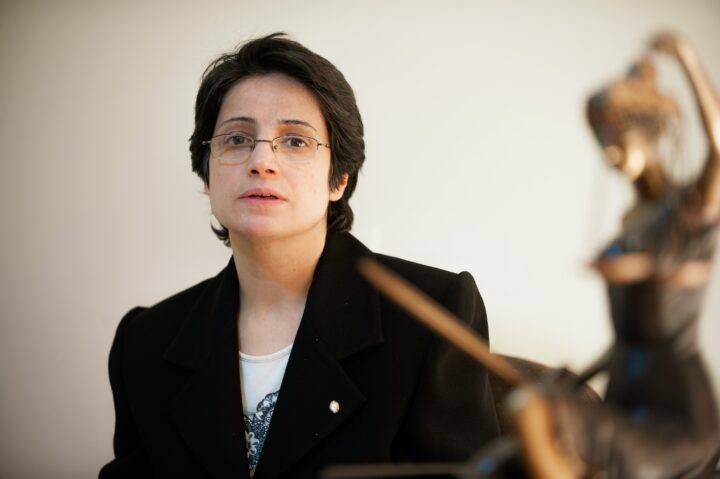 28 September 2020
Nasrin Sotoudeh ends hunger strike as health deteriorates
On 26 September 2020, Nasrin Sotoudeh ended her hunger strike that she had been on since 11 August. This was announced by Reza Khandan, Nasrin Sotoudeh's husband.
Ms. Sotoudeh began a hunger strike on 11 August 2020. In a letter detailing her reasons for starting a hunger strike, Ms. Sotoudeh has demanded the release of prisoners held for political motives who are at risk of catching Covid-19. Ms. Sotoudeh was hospitalized on 19 September after her health was rapidly detoriating. Despite having cardiac issues, she was returned to prison on 23 September.
On 25 September, 16 UN independent experts expressed concern about the fact that Ms. Sotoudeh was returned to Evin Prison despite her deteriorating health condition. The experts said: "We urge the authorities to immediately reverse this decision, accept her requests to recuperate at home before undergoing a heart procedure, and allow her to freely choose her own medical treatment". This was also echoed by Cornelia Ernst, chair of the EU Parliament's Iran delegation. She has expressed her utmost concern at Ms. Sotoudeh's condition, and has called on the Iranian authorities to immediately accept Soutoudeh's request to recuperate at home ahead of a heart procedure, and that she should be allowed to freely choose her own medical treatment.
The 16 UN independent experts also called for the immediate release of Ms. Sotoudeh by stating that "The evidence suggests Ms. Sotoudeh's imprisonment, both now and in the past, is State retaliation for her tireless work defending human rights. She is one of many Iranian human rights lawyers who are currently imprisoned for defending fundamental freedoms. Her convictions and sentences, as well as those of all other lawyers arbitrarily detained in Iran, should immediately be quashed and her case reviewed consistent with fair trial standards".