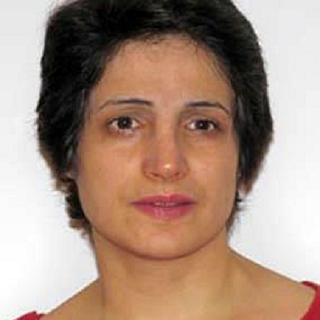 24 April 2012
Iran Nasrin Sotoudeh nominated for Martin Ennals Award
On 24 April 2012, newly-appointed Chair of the Martin Ennals Foundation, Micheline Calmy-Rey, announced the three nominees for the Martin Ennals Award 2012, the main award of the international human rights movement. Nasrin Sotoudeh, an Iranian human rights lawyer, is one of the three nominees.
The press release reads:
"Nasrin Sotoudeh, a woman lawyer from Iran, is currently serving a prison sentence on charges of 'spreading propaganda against the State', 'collusion and gathering with the aim of acting against national security' and 'membership in an illegal organization'. She is the former lawyer and member of the organization of the now-exiled Iranian Nobel Peace Prize winner Shirin Ebadi, who declares Sotoudeh is 'one of the last remaining courageous human rights lawyers who has accepted all risks for defending the victims of human rights violations in Iran'."
The two other nominees are Venerable Luon Sovath from Cambodia and the Bahrain Center for Human Rights (BCHR).
On 2 October 2012, the Laureate will be announced during the annual ceremony in Geneva.
Here is a short video which introduces the three nominees:
For more information, photos and videos regarding this year's nominees please visit  http://www.martinennalsaward.org  or contact  info@martinennalsaward.org or via +41 22 809 49 25.