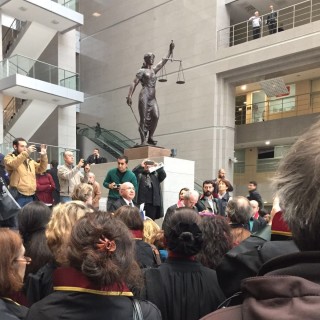 10 July 2017
Lawyers for Lawyers observed hearing in KCK-trial
On 6 July 2017, there was another hearing in Istanbul in the long-running case against 46 lawyers accused of being involved in terrorism. Lawyers for Lawyers has observed all the hearings since the beginning of the trial in 2012.
The hearing lasted only half an hour, again with new judges and a new prosecutor. Only 8 of the 46 accused lawyers were present; the others had asked for permission not to attend this hearing.
Before, the defence lawyers had requested to add additional documents to the the case file, for example the file of the judge who presided this case a long time and who is now in pre-trial detention as a suspect of terrorism himself. The court apologized that case file is still incomplete, and stated that the request to supplement the file had not been duly processed. Furthermore, these judges were appointed temporarily, one of the judges being not available, as well as the prosecutor in charge.
The case was adjourned until 5 December 2017.
One of the defence lawyers noted that these judges were kind, seemed to know the file and seemed to be understanding about the requests of the defence lawyers and there position. "Even a small thing like this makes us happy these days".
During our stay more human rights defenders were arrested, amongst whom the director of Amnesty Turkey, Idil Eser. One month ago, the chair of Amnesty Turkey Taner Kilic, also a lawyer, was arrested together with 22 other lawyers.
In Turkey the rule of law is under severe threat. Lawyers for Lawyers will continue to monitor the situation of lawyers in Turkey closely.