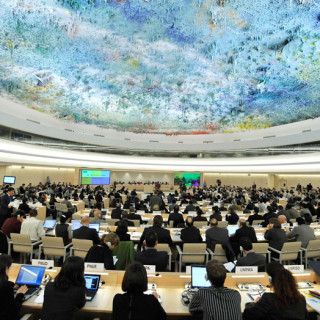 12 March 2020
Oral statement Iran UPR outcome
The statement reads as follows:
Mr President,
We welcome the decision of Iran to accept some of the recommendations relating to the rights of lawyers, made at its 3rd UPR. Protection of human rights and fundamental freedoms requires effective access to legal services provided by an independent legal profession. Fundamental to improving human rights for the people in Iran is a justice system that allows lawyers to work independently without fear of harassment or intimidation.
We are concerned by the reported cases of lawyers representing clients in sensitive cases, who, without reason, are denied access to their clients, and are subjected to harassment and convictions on improper grounds. States have the primary responsibility to protect lawyers for them to discharge their function without interference, intimidation or harassment. Since January 2018, multiple lawyers were arrested, detained or sentenced to lengthy prison terms in connection to their professional activities, including lawyer Nasrin Sotoudeh.
We are also deeply concerned about a "note" appended to Article 48 of Iran's Criminal Procedure Regulations. This note provides that in cases of crimes against the security of the State, suspects have to choose a lawyer from a pre-approved list. Anyone charged or suspected of a crime has the right to be represented by a lawyer of his or her choice. Any state restriction to this right can only take place for compelling reasons and must not prejudice the ability of the person to receive effective and independent legal assistance, in order to answer the case. There are real dangers that a list of state-chosen counsels undermines those minimum criminal guarantees.
We urge Iran to:
– effectively implement the accepted UPR recommendations without delay; and
– take immediate measures to ensure that sufficient safeguards are in place to guarantee the full independence of lawyers and their effective protection against any form of undue interference in their work, including their prosecution on improper grounds.
Thank you.
 The statement can be read here.