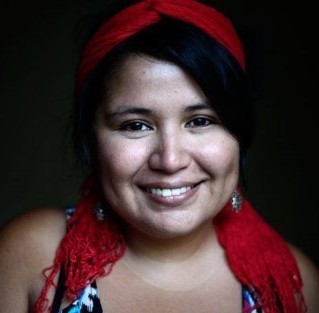 28 November 2017
Orange the World Karen Mejía, Honduras
The 25th of every month has been designated "Orange Day" by the United Nations Secretary-General's Campaign UNiTE to End Violence Against Women, to raise awareness and take action to end violence against women and girls. From 25 November, the International Day for the Elimination of Violence against Women, to 10 December, Human Rights Day, the 16 Days of Activism against Gender-Based Violence Campaign called "Orange the World" takes place. Justice International together with Lawyers for Lawyers will be highlighting women-lawyers (and human rights defenders) who work to end violence against women and girls around the world.
Karen Mejía, Honduras
Karen has been working as a human rights lawyer in Honduras since 2007. Within her organisation she is responsible for advocacy in Honduras. Together with others NGO's she made the first protocol for the care of victims and survivors of sexual violence in Honduras. Besides her work as a lawyer Karen also works with young feminists and is involved on the topics of sexual and reproductive rights. She is involved in an organisation which seeks the decriminalization of abortion and conducts research on topics such as femicide and enforced disappearance of women and has provided legal counselling to relatives of victims.
In addition, she is part of an editorial team which writes news for Facción Latina, a chain of Latin American communicators to put out there what is really happening in Honduras, which is what she has dedicated a lot of valuable time to since the crisis in Honduras.
As a human rights defender in Honduras, Karen has received death threats, faces intimidation and was even beaten by the police. Many of her colleagues were killed and she is under the threat of persecution. Facing this reality, she does everything in her power to provide support to others while risking her own life.
In May 2017, lawyers from L4L's focus group Latin-America met with Karen Mejía. Karen was in the Netherlands for a period of three months in Amsterdam, which is one of the ten Dutch Shelter Cities in The Netherlands. The Shelter City progamme is powered by Justice and Peace Netherlands and offers rest and respite, trainings and networking opportunities to human rights defenders at risk.