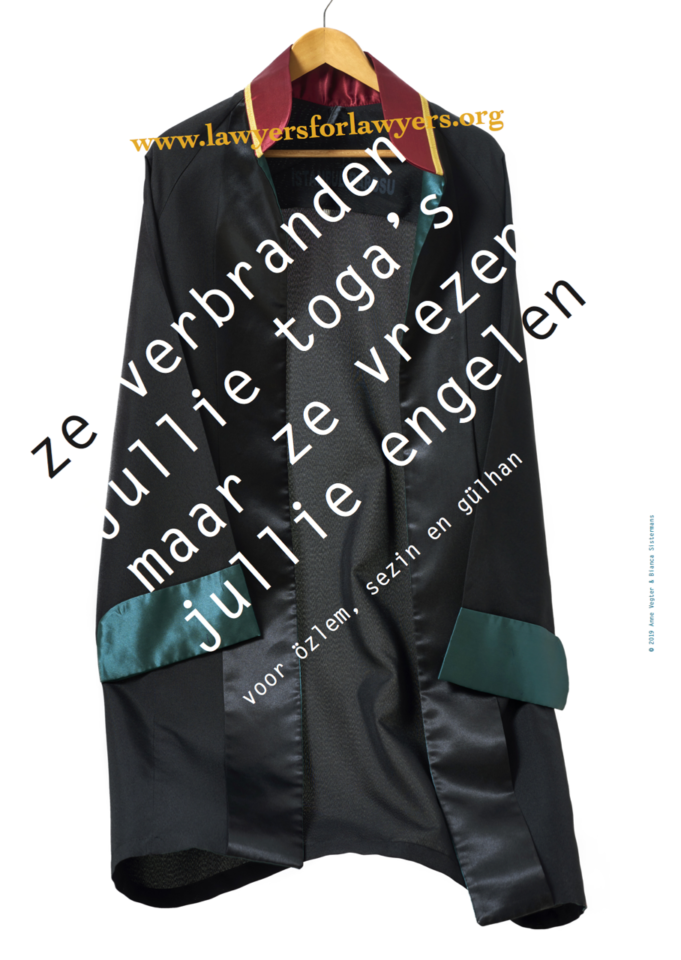 4 April 2019
Özlem, Sezin, Gülhan
In November 2018, Anne Vegter, the former Dutch national poet, and photographer Bianca Sistermans traveled to Istanbul at the invitation of Lawyers for Lawyers, to join a trial monitoring mission.
Anne Vegter wrote a poem in support of three persecuted Turkish lawyers. Bianca Sistermans made black-and-white portraits of the three lawyers. And together they made a portrait of a Turkish gown with lines of poetry by Anne Vegter ("they may burn your robes but they fear your angels"). Read an interview with Anne Vegter and Bianca Sistermans here.
Özlem, Sezin, Gülhan
they may put your hands in chains but they can't lock your heart
they may twist your words but they can't drink your blood
they may drink your blood but they can't palate your flesh
they may break your mirrors but they can't erase your memories
they may set fire to your robes but they fear your angels
they may conceal the witnesses but they can't settle lies
they may chop down the trees but they can't see the shadows
they may honour the water wells but they can't command the rain
they may fuse the prison bars but they can't lower your voices
they may burn your robes but they fear your angels
they may barricade your city but they can't cleave the stones
they may separate your sisters but not their clasped hands
they may sack your defence but not the patience of the pain
they may reign over Istanbul but not the seagulls above the marmara
they may set fire to your robes but the angels shall speak
©Anne Vegter, 2019
Translation: Astrid Alben
Anne Vegter
Anne Vegter (Delfzijl, 31 December 1958) is a poet, prose-, drama- and children's book writer.
Her work was awarded with the Woutertje Pieterse Prize, she was nominated for the AKO literature prize and in 2004 she received the Anna Blaman Prize for her entire oeuvre. The following year, together with Antoine Uitdehaag and Anna Enquist, Ane Vegter was awarded with the Taalunie Toneelschrijfprijs. In January 2012, Anne Vegter won the Awater Poetry Prize. From 2013 to 2017 she was National Dutch Poet. In 2015 Anne was appointed member of the Academy of Arts.
Bianca Sistermans
Bianca Sistermans (Heerlen, 3 April 1969) obtained her Master of Fine Arts at the Academy for Art and Design St. Joost in Breda. Her work was shown during many art events. Publications of her projects appeared in national newspapers. She was (co)author of many books, often as a co-production with writers or poets. Such as Dichter van Dienst, De eenzame uitvaart, Alledaagse Ergernissen, Hier besta ik and Mijn moeder zei nog, pas je wel op!