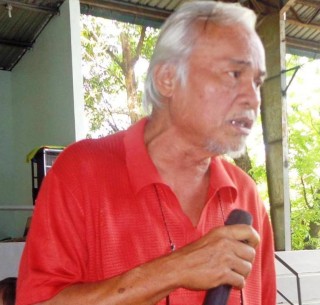 7 September 2014
Lawyer Rodolfo Felicio killed
Lawyers for Lawyers has sent letters to the authorities of the Philippines urging them to investigate the death of human rights lawyer Rodolfo Felicio.
On 24 August 2014, Atty. Felicio was killed at Floodway, Taytay, Rizal, while reportedly amongst his clients. According to our information, four men on motorcycles opened gunfire on a campsite in Taytay, killing Atty. Felicio and injuring two others. At the time of the attack, Atty. Felicio was sleeping in a tent, together with two employees of his clients.
The killing of Atty. Felicio seems to be related with the legitimate performance of his professional duties as a lawyer. Atty. Felicio was handling land dispute cases concerning a family's property in Taytay. He was also involved in other high profile cases, including the Olalia-Alay-ay double murder case.
Lawyers for Lawyers has grave concerns about the situation of lawyers in the Philippines, for the murder of Atty. Felicio does not stand alone. At least 23 lawyers have been killed since 2001. Many of them were labeled as 'enemies of the state' prior to being attacked, apparently because they were identified with their clients or their clients' causes as a result of performing their professional duties. So far, only one person has been convicted for these killings and this occurred in 2006. Many other lawyers were – and still are – subjected to various forms of attacks, ranging from surveillance, labelling, intimidation, harassment, threats to prosecution on fabricated charges. Earlier this year, L4L already sent letters to the authorities in the case of human rights lawyer Atty. Maria Catherine L. Dannug-Salucon, who was threatened.
Lawyers for Lawyers calls on the Philippine government to ensure the personal and professional safety of lawyers in the Philippines and to effectively prevent and punish attacks on their independence and/or safety.
Normal
0
21
false
false
false
NL
X-NONE
X-NONE
/* Style Definitions */
table.MsoNormalTable
{mso-style-name:Standaardtabel;
mso-tstyle-rowband-size:0;
mso-tstyle-colband-size:0;
mso-style-noshow:yes;
mso-style-priority:99;
mso-style-parent:"";
mso-padding-alt:0cm 5.4pt 0cm 5.4pt;
mso-para-margin-top:0cm;
mso-para-margin-right:0cm;
mso-para-margin-bottom:10.0pt;
mso-para-margin-left:0cm;
line-height:115%;
mso-pagination:widow-orphan;
font-size:11.0pt;
font-family:"Calibri","sans-serif";
mso-ascii-font-family:Calibri;
mso-ascii-theme-font:minor-latin;
mso-hansi-font-family:Calibri;
mso-hansi-theme-font:minor-latin;
mso-fareast-language:EN-US;}
Meer nieuws uit Philippines