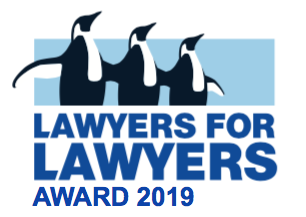 19 March 2019
Presentation Lawyers for Lawyers Award 2019
On Thursday 23 May 2019, the Lawyers for Lawyers Award 2019 will be presented in Amsterdam. This will be the fifth award ceremony of the prestigious Lawyers for Lawyers Award. Prior to this ceremony a very interesting seminar will be held. So please save the date and register for this event!
The seminar will be organized in collaboration with the Amsterdam Bar Association and the Justitia Commission of the Young Lawyers Association Amsterdam. The main topic of the seminar will concern the developments surrounding the proposed European Convention on the Profession of Lawyers. Two panel discussions will be organized around this topic. Speakers include François Moyse (Vice-Chair of the CCBE European Convention Working Group), Mikolaj Pietrzak (president of the Warsaw Bar Association) and former Award winners and lawyers Sirikan 'June' Charoensiri (Thailand), Magamed Abubakarov (the Russian Federation) and Alec Muchadehama (Zimbabwe).
Date: 23 May 2019
Location: De Rode Hoed, Amsterdam
Programme:
14.00 – 14.30 Arrival & registration
Part I – Seminar on the proposed European Convention to Protect Lawyers:
14.30 – 14.15 | Introduction
14.45 – 15.45 | Panel discussion 1
15.45 – 16.15 | Break
16.15 – 17.00 | Panel discussion 2
Part II – Presentation of the Lawyers for Lawyers Award 2019:
17.00 – 17.30 uur | Presentation of the Jury Report 2019 by jury member Prof. Egbert Myjer, presentation of the Award by Sirikan Charoensiri (laureate of 2017) to the winner of 2019
17.30 – 19.00 uur|  Drinks
Further details will provided by email.
About the Lawyers for Lawyers Award
Every two years the Lawyers for Lawyers Award is awarded to a lawyer, who has made significant contributions to the protection of the rule of law and human rights in challenging environments. These lawyers are for example harassed, threatened, persecuted or disbarred as reprisal for helping others. Because they represent clients in sensitive cases or speak out against rights violations. Through the Award, Lawyers for Lawyers generates public recognition for the work and outstanding achievements of lawyers at risk.
We hope to welcome you during the seminar and the Lawyers for Lawyers Award ceremony 2019!