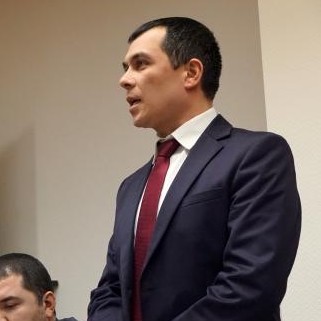 28 February 2019
Request disbarment Emil Kurbedinov denied
On 22 February 2019 the Crimean Bar Association decided against the request of the Crimean Directorate of the Ministry of Justice of the Russian Federation to disbar Emil Kurbedinov, thereby maintaining his membership. This was reported by Frontline Defenders.
Emil Kurbedinov is a human rights lawyer working in Crimea. He is actively involved in defending the rights of Crimean Tatars, who since the occupation of Crimea by the Russian Federation have become a target for the authorities. He has been drawing public attention to human rights violations in Crimea by using both social media and international conferences. He is the winner of the 2017 Frontline Defenders Award for Human Rights Defenders at Risk.
On January 10 2019, Emil Kurbedinov received a letter, dated 18 December 2018, notifying him that he would be excluded from the Crimean Bar Association by 1 March 2019. According to 1.2 (4) of Article 15 of the Federal Law "On non-commercial organizations", a person that has been convicted of extremism cannot be a founder or a member of non-commercial organization. Therefore Kurbedinov as a founding member of the Crimean Bar association would have to be disbarred. This letter refers to the two convictions of Kurbedinov. On 7 December 2018, he was sentenced to five days of administrative detention for "propagandizing for extremist organizations" in relation to a social media post from 2013 showing a video of the under Russian legislation banned organization Hizb ut-Tahrir. Hizb ut-Tahrir operates legally under Ukrainian Law. On 26 January 2017, Kurbedinov was sentenced to 10 days of administrative detention for exactly the same social media post.
On 22 February 2019, the Crimean Bar Association considered the possibility to exclude Kurbedinov from the Bar Association itself and from it's list of founders. His disbarment was requested with reference to two convictions of Kurbedinov to administrative detention in 2017 and 2018 in relation to one post on his personal social media account dating back to 2013. After establishing a special commission for this purpose, the Bar Association came to the conclusion that it would maintain Kurbedinov's membership.