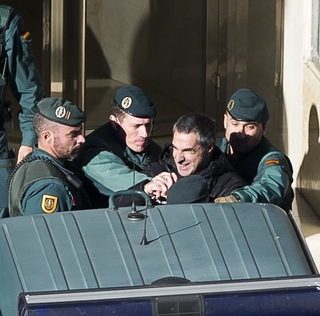 16 January 2015
Police arrest 12 lawyers on 'terrorist charges'
On Monday 12 January 2015, sixteen people, amongst them twelve Spanish lawyers, were arrested by the police after a judge of the Audienca Nacional ordered their arrest. The Audience Nacional is a special and exceptional High Court, competent to try crimes of terrorism. The sixteen arrested are suspected of 'membership of a terroristic organization' and tax fraud. After two days they were released.
The Spanish minister of Interior in a statement confirmed the arrest of an undetermined number of people "who belong to different organisations that support the terrorist group ETA" in the northern Basque Country, Madrid and Navarra.
The sixteen were arrested one day before a trial against thirty-five suspected members of Batasuna (the banned political wing of the ETA) was due to start. Four of the arrested lawyers were representing suspects in this case. The trial was suspended until further notice.
According to our sources, the 12 lawyers that were arrested together represent 500 political prisoners that stand trial in the Audienca Nacional. By arresting these lawyers the Spanish state not only prevented them from exercising their professional duties but also denied their clients the right to be represented by a lawyer of their choice.
ETA or Euskadi Ta Askatasuna, which means Basque Homeland and Freedom in Basque, seeks independence of the Basque Country from Spain (and to a lesser extent in France). Spain considers ETA as a terroristic organization. On 20 October 2011, ETA announced a "definitive cessation of its armed activity".
Lawyers for Lawyers is worried about the recent situation of Basque lawyers, and the arrests of last Monday. L4L called on the Spanish authorities to drop the charges against the lawyers, and to guarantee that they can continue doing their work without improper interference.