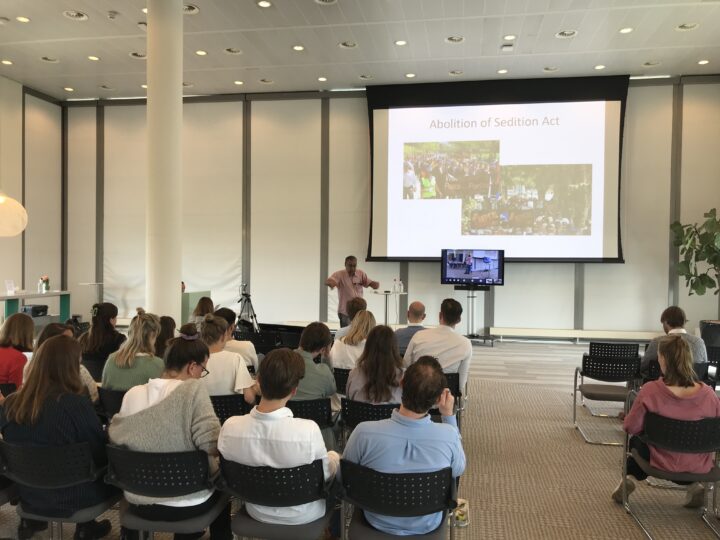 30 May 2022
Speaker Tour with lawyer from Malaysia
To launch our one-year campaign focused on environmental lawyers, we invited environmental lawyer and human rights defender Charles Hector from Malaysia to the Netherlands for a Speaker Tour.
As part of the Speaker Tour, Charles Hector spoke to colleagues lawyers from the Netherlands about his work in pursuit of environmental justice, the difficulties that he is facing when working on environmental cases, what the Dutch legal community could do in support of these lawyers, and also the active rol of the Malaysian Bar Association in protecting its members.
One of the examples that Charles Hector gave during his presentations was that, in 2021, he faced contempt of court proceedings for representing eight villagers of Kampung Baharu, who contested logging in the Permanent Forest Reserve in Jerantut. Eventually, the contempt of court proceedings were withdrawn by the two logging companies. Yet, this interreference with the work of Charles Hector illustrates how the work of lawyers in pursuit of environmental justice can be hampered.
Together with Charles Hector Lawyers for Lawyers visited a total of four law firms as part of the Speaker Tour. On 18 May 2022, he gave presentations at Houthoff, Van Doorne and Stek. On 19 May 2022, he gave a presentation at Nautadutilh.
The Dutch lawyers that were present during the presentations received first-hand information about the Malaysian context relating to the work of lawyers, environmental issues, and how the Malaysian Bar is also focusing on the environment, such as by setting up a Bar Council Environment and Climate Change Committee. Charles Hector also asked the lawyers to critically reflect on the role of their own local bar associations when it comes acting in support of human rights.
We would like to thank Wolters Kluwers Netherlands for their generous support and making this Speaker Tour possible.