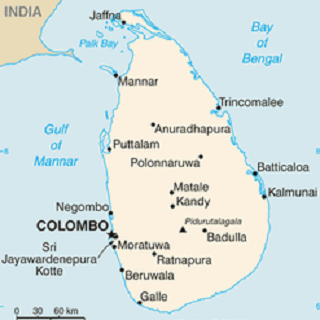 19 September 2014
Sri Lanka Situation of lawyers deteriorates rapidly
The situation of lawyers in Sri Lanka is deteriorating rapidly. Lawyers for Lawyers was informed about- and contacted by several lawyers who are the victim of (death) threats in connection to their work. This week, Lawyers for Lawyers wrote letters to the Sri Lanka authorities, urging them to properly investigate these threats, bring the perpetrators to justice and ensure the personal and professional safety of the lawyers in Sri Lanka, in line with the Basic Principles on the Role of Lawyers.

Upul Jayasuriya
On 15, 16 and 17 July, Upul Jayasuriya, lawyer and President of te BASL (Bar Association of Sri Lanka) made a complaint with the Thalangama police regarding an incident where two unidentified motorcyclists had roamed around his residence located in the Thalangama area. The BASL has got reliable information that the men who followed Upul Jayasuriya were from the State Intelligence service (SIS).
Because the police refused to provide the necessary security measures for Upul Jayasuriya, the case was brought to the Chief Magistrate Court. While the case was upheld, in order to get more information, the Ministry of Defence had informed the police that there was no need for special personal security as there was no threat for the life of Upul Jayasuriya, according to investigations. The court relied on this conclusion. So far, no one has been arrested and no security measures have been provided by the national police to protect Jayasuriya.
Namal Rajapakshe, Manjula Pathiraja and Lakshan Dias
Mr. Rajapakshe, Mr. Pathiraja and Mr. Dias have frequently stood by victims of human rights violations across the country, irrespective of ethnic and religious backgrounds, often pro bono. They appeared in series of sensitive cases challenging arbitrary actions of all organs of the Government, including the Defence Authorities.
On 4 August 2014, Attorneys Mr. Rajapakshe, Mr. Pathiraja and Mr. Lakshan Dias were intimidated by a group of thugs inside the Maradana Police station. The three of them were delivering statements on behalf of their clients, on the breaking up of a peaceful private meeting and criminal trespass. Mr Rajapakshe made a complaint regarding this incident on 5th August 2014. No actions have been taken by the police in respect of this intimidation.
Furthermore, on 13 September 2014, two unidentified men wearing jackets and helmets covering their faces entered the legal offices of Namal Rajapakshe in Kelaniya, Colombo district. One of the men, who was armed with a gun, cornered Namal Rajapakshe and threatened that he and Manjula Pathiraja would be killed should they appear in any more "unnecessary cases". They were allegedly told that they must keep "two coffins ready for them", if they were to appear on those cases. They particularly mentioned several cases where Mr. Rajapakshe and Mr. Pathiraja had appeared against a controversial Buddhist monk, who received the backing of the Defence Authorities in the recent past. The two intruders had then fled on an unidentified motorcycle. Mr. Rajapakshe made a complaint at the Peliyagoda Police Station bearing number CIB/III – 230/123.
Lawyers for Lawyers will continue to closely monitor the cases mentioned above. Please click here to see the letters that were sent.