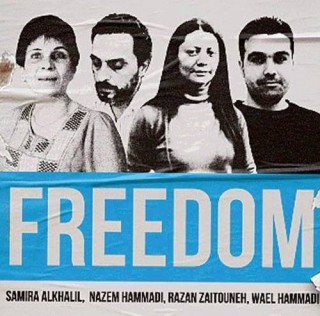 29 April 2016
Call for release of 'Douma Four' on birthday of Razan Zaitouneh
To mark the birthday of missing human rights lawyer Razan Zaitouneh, today a large amount of organizations, including Lawyers for Lawyers, called for her immediate release, as well as that of her colleagues Samira Khalil, Nazem Hamadi and Wa'el Hamada. The four, also known as the 'Douma Four', were abducted on 9 December 2013 in Douma. Since then, no one has heard of them.
Razan Zeitouneh is a lawyer who mostly represented political prisoners, and won several awards for her human rights work. She is, even though she had to go into hiding due to threats in 2011, one of the few internationally known human rights lawyers who have remained in Syria since the uprising in March 2011.
Razan Zeitouneh is co-founder of the Local Coordination Committees in Syria (LCC) and the Violations Documentation Center (VDC), which documents all human rights violations in Syria. Furthermore, she is co-founder of the 'local development and small projects support office' (LDSPS), which provices basic needs and essential services and support to medical and development centres in Syria.
Razan Zaitouneh was selected as one of the three finalists for the Martin Ennals Award 2016.