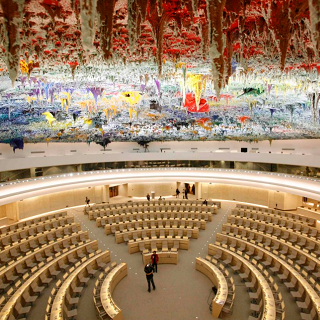 31 August 2016
Call on authorities to accept UPR recommendations on lawyers
During the interactive dialogue of the Universal Periodic Review (UPR) of Tajikistan on 6 May 2016, Tajikistan received several recommendations with regard to the functioning and the role of lawyers in the country. Lawyers for Lawyers called on the authorities to accept and implement these recommendations in a prompt manner, to guarantee the proper functioning of the legal profession in Tajikistan.
In its NGO submission for the UPR of Tajikistan, Lawyers for Lawyers addressed concerns about the situation of lawyers in Tajikistan, and Tajikistan's compliance with the Basic Principles on the Role of Lawyers. Lawyers working on sensitive cases have been the subject of harassment, arrests and prosecution. This impedes the effective access to legal services provided by an independent legal profession. Fundamental to improving the human rights situation for people in Tajikistan will be to ensure the justice system provides due process for rights holders and allows lawyers to do their work independently and without fear of influence, harassment or intimidation.
During the interactive dialogue of the UPR last May, Tajikistan received the following recommendations:
"118.38: Ensure lawyers freedom to exercise their professional duties by guaranteeing unhindered access to their clients, freedom to represent their clients without threats from state or other actors and that such threats are promptly investigated (Norway);
118.39: Refrain from and prevent any executive interference with lawyers' conduct of their professional duties (Austria);
118.67: Provide human rights defenders, including defense attorneys and political figures detained as a result of their political activities, such as Burzurgmehr Yorov, Shuhrat Qudratov, and Ishoq Tabarov and his sons, with fair, open, and transparent trials, including the substantive protections and procedural guarantees in accordance with Tajikistan's international obligations (United States of America);
118.69: Immediately and unconditionally release prisoners arrested on politically motivated charges, including members of the Islamic Renaissance party of Tajikistan, Group 24 and their lawyers (Norway)."
Tajikistan will examine these recommendations and provide responses in due time, but no later than the thirty-third session of the Human Rights Council in September 2016.
Meer nieuws uit Tajikistan