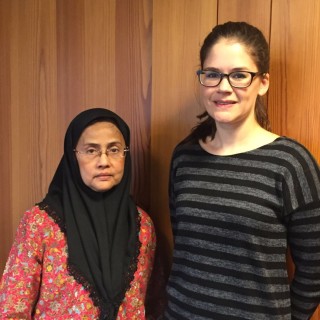 11 April 2016
Thailand-blog Looking back on Thailand's UPR pre-session
By Karin Monster
Geneva, Wednesday, March 30th. Getting up early in the morning and heading to Thailand's "Universal Periodic Review" (UPR) pre-session with L4L's representative, Milena Latuputty. During this session, Thailand's current human rights situation will be reviewed in the presence of representatives of the Permanent Missions and (inter)national organizations.
Once arrived, we find ourselves a place in the room. The session begins and we listen with great attention to six Thai public speakers, who all represent a local human rights organization. One by one, they inform the audience in the room on Thailand's current human rights policy. What is going well? But particularly, what are the main concerns? Which recommendations from its previous UPR Working Group (2011) has Thailand implemented and which recommendations have not (yet) been realized?
Prior to this UPR pre-session, over 150 (human rights) organizations submitted a report, in which they draw attention to certain human rights issues in Thailand. L4L is one of these organizations and draws attention to the troublesome position of Thai human rights lawyers. The UN country delegations will (partly) draft their recommendations for Thailand's upcoming UPR Working Group (May 2016), based on the information in these reports and the information gathered during this pre-session.
After the pre-session and in the course of the week, Milena has the opportunity to inform representatives of various Permanent Missions on the position of Thai human rights lawyers. She emphasizes the fact that these lawyers are increasingly being exposed to intimidation and prosecution by Thai officials since the military coup in 2014. Milena is also lobbying for country delegations to explicitly mention the position of Thai lawyers in (one of) their recommendations.
In the course of the week, Milena regularly joins forces with Irma van den Berg, L4L's representative on the pre-session of Swaziland. In addition, Milena interacts with several Thai human rights defenders, including with Angkhana Neelaphaijit. Angkhana is Commissioner of the Thai National Human Rights Commission. She is also the wife of Somchai Neelaphaijit, a Thai lawyer who disappeared in 2004. To this day, Angkhana is fighting for justice for her husband, despite the fact that the Thai Supreme Court recently upheld the judgment of the Court of Appeal. This judgement dismissed the charge against the five defendants in this case and ruled that Somchai's close family members are not eligible to exercise their rights as an aggrieved party.
Currently, it is still unknown whether the Permanent Missions will explicitly mention the position of Thai lawyers in their recommendations. But no matter what the outcome will be, L4L looks back on the efforts of Milena and Irma during the UPR pre-sessions and many inspirational meetings with various professionals and human rights defenders, with satisfaction.