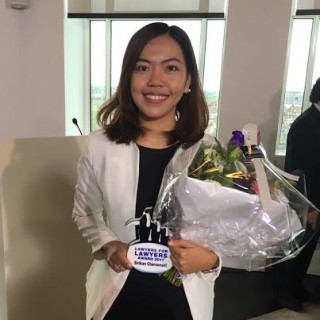 4 August 2017
Ongoing judicial harassment of Sirikan Charoensiri
L4L continues to support Thai human rights lawyer Sirikan Charoensiri in her struggle against judicial harassment by the Thai authorities, resulting from the legal aid she provided to 14 student activists on 26 June 2015. On 2 August 2017, a member of L4L together with a group of international human rights organizations and country delegations accompanied Ms. Sirikan to two scheduled hearings at the Dusit District Prosecutor's Office and at the Chanasongkram police station in Bangkok.
#1: Decision on prosecution related to car search-case
Ms. Sirikan Charoensiri was scheduled to appear before the Dusit District Prosecutor's Office to hear the Prosecutor's decision on the charges of "concealing evidence and refusing to comply with official orders". These charges were made in respect of her refusal to let warrantless officers search her car in the night of 26 – 27 June 2015.
According to Thai Lawyers for Human Rights (TLHR), the Prosecutor's Office announced on 2 May 2017 that the case was submitted "for consideration" to the Department of Attorney-General's Decisions (DLAG). On 2 August 2017, it became clear that no decision had been taken yet about a possible indictment. Immediately after Ms. Sirikan Charoensiri reported at 9:30 am at the Dusit District Prosecutor's Office, she was informed of the postponement of the decision, allegedly because the case was still pending at the DLAG. The decision on further prosecution was rescheduled to 20 November 2017. This is the seventh postponement in this case. Ms. Sirikan Charoensiri will face a trial in the Criminal Court if indicted.
# 2: Information on police charges related to false report-claim
Ms. Sirikan Charoensiri was also summoned to appear on 2 August 2017 before the Chanasongkram police station in Bangkok. She is accused of "submitting a false report to the police", comprising of a complaint of malfeasance in office against police officers for illegally impounding her car on 27 June 2015. The National Anti Corruption Commission (NACC) refused to launch an investigation into the complaint of malfeasance. Previously, Ms. Sirikan Charoensiri objected against the charge and requested the inquiry officer to point out which parts of the report were false.
On 2 August 2017, the inquiry officer informed Ms. Sirikan Charoensiri that the complaint of malfeasance was false, because the police officers did have authority to impound her car in the night of 27 June 2015. Ms. Sirikan Charoensiri denied the allegations, conveyed that she would request the Royal Thai Police to appoint another inquiry officer in order to avoid a conflict of interests, and declared she will submit a written statement to the inquiry officer by the end of September 2017.
L4L is deeply concerned about the possible criminal prosecution of Sirikan Charoensiri. We have repeatedly called on the Thai authorities to drop all charges against her and make sure that all lawyers can do their work without threat, intimidation, hindrance, harassment, improper interference or reprisals.
Ms. Sirikan Charoensiri is the fourth laureate of the L4L Award, which she received on 19 May 2017 in Amsterdam.