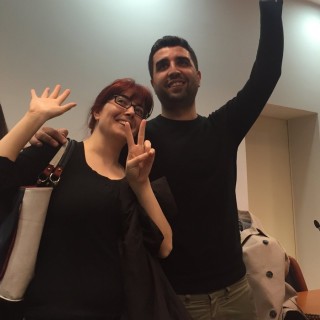 7 April 2016
Lawyers Ramazan Demir and Ayşe Acinikli detained again
After the initial arrest and release of nine lawyers in Istanbul between 16 – 19 March 2016, new arrest warrants were issued against four of them on 22 March 2016. Two lawyers were re-arrested immediately after and were released a couple of days later. Yesterday, lawyers Ramazan Demir and Ayşe Acinikli were re-arrested.
Arrest nine lawyers
In the early morning of 16 March 2016, police raided the houses and offices of nine lawyers in Istanbul, Turkey. After the search, lawyers Ramazan Demir, İrfan Arasan, Ayşe Acinikli, Hüseyin Boğatekin, Şefik Çelik, Adem Çalışçı, Ayşe Başar, Tamer Doğan and Mustafa Rüzgar were arrested and taken into custody. The charges are unknown since the case file on the arrests is confidential. Allegedly the lawyers are arrested on suspicion of having ties with a terrorist organization.
KCK-Trial against 46 lawyers
All lawyers that were arrested represent the 46 lawyers who were arrested in 2011 on suspicion of "working for, or belonging to, a terrorist organization". A hearing in the trial against these lawyers took place only one day after the arrests, on 17 March 2016. This hearing was postponed until 28 June 2016; the remaining lawyers of the 46 accused lawyers left the hearing in protest, with the consent of their clients, since they felt they were incapable of presenting an adequate defense whilst their colleagues were in custody. The hearing was monitored by a group of international observers, including representatives of Lawyers for Lawyers, Fair Trial Watch (FTW) and the Dutch Bar Associations.
Arrests relate to activities as lawyers
Lawyers for Lawyers and FTW have serious reason to believe that these lawyers, just like the lawyers in the KCK-case, were arrested because of their work as lawyers and because they represent clients suspected of terrorism or opposing the Turkish government.
Click here for the official press release.