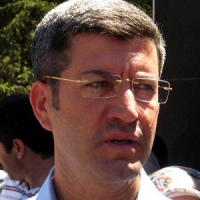 15 April 2014
Turkey Muharrem Erbey released after 1.570 days in pre-trial detention
1.570 days after Muharrem Erbey was arrested, he is now provisionally released. However, grave concerns about the prominent human rights lawyer remain who is subjected to continuous judicial harassment through terrorism charges that seem to aim at repressing legitimate human rights activities.
On 12 April 2014, the Diyarbakir Heavy Penal Court No. 2 decided to release Muharrem Erbey, human rights lawyer, vice-president of the Human Rights Association of Turkey (IHD) for "lack of evidence". Mr. Erbey has been suffering protracted pre-trial detention for more than four years and is being prosecuted together with 174 other Kurdish Turks.
During this preliminary hearing, the provisional release of 48 of the accused was discussed. 38 were released pursuant to the recently set five-year limit of detention and 10, including Mr. Erbey, were released for lack of evidence. However, charges remain pending against them. The trial was postponed until July 7, 2014. To date, 43 remain in jail in this case.
Background information
As a lawyer, Muharrem Erbey stood by victims of human rights violations, extrajudicial killings and enforced disappearances. He also represented some of his clients before the European Court of Human Rights. Furthermore, he is vice-president of the IHD and president of the local branch of the IHD in his hometown Diyarbakir in south-eastern Turkey.
Formally he is charged with membership of an illegal organisation, but there are indications that he is being prosecuted because of his work as lawyer and human rights defender. The trial against Erbey and 151 others began in October 2010. The defendants face prison terms varying from 15 years to life.