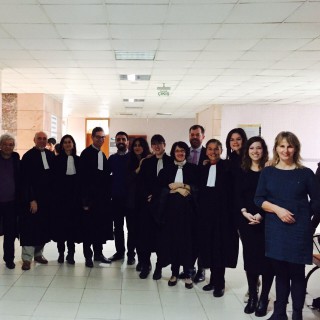 9 April 2015
Ramazan Demir acquitted!
Today, a Turkish court decided to acquit lawyer Ramazan Demir. Lawyers for Lawyers was in Istanbul to observe the hearing in the trial against Demir, and welcomes the decision of the court.
Demir had been charged with "insulting or (…) offending the dignity of a public authority in the performance of his duties", pursuant to Section 125 of the Criminal Code which provides for up to two years of imprisonment. The charges are based on defence speeches he made during the trial against 44 journalists who are suspected of ties with the KCK.
During a hearing held on November 16, 2012, Demir challenged the capacity of the Prosecutor to determine in the indictment that a group of journalists facing charges were conducting activities that are not "normal" nor "independent". Demir also requested the court to call and hear an expert to testify before the Court on what can constitute normal and independent journalistic activities. The Silivri Prosecutor conducted an investigation, decided to charge lawyer Ramazan Demir and, on September 9, 2013, obtained authorisation from the Justice Ministry to file the indictment.
Demir's lawyers argued during the hearing on 9 april that lawyers have the duty to defend their clients to the best of their abilities. Statements made in the defence of clients or not made in the lawyers' personal capacity, but in their professional capacity and on behalf of the client.
Demir is one of many lawyers that are being prosecuted in Turkey. In May, another hearing in the 'Lawyers trial' will take place. In this trial, 46 lawyers are accused of "working for, or belonging to, a terrorist organisation." Lawyers for Lawyers will be in Istanbul to monitor these hearings.